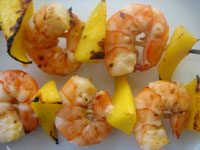 4 servings

1 lb large shrimp (16-20/lb)
2 teaspoons fresh ginger, finely grated
2 Tablespoons olive oil
1/4 cup orange juice, freshly squeezed
1/4 cup lemon juice, freshly squeezed
pinch red chili flakes
pinch of salt
2 mangoes, peeled

Soak 10-12 bamboo skewers in water for about 30 minutes to prevent burning.
Make the marinade by combining the ginger, olive oil, orange and lemon juice and a pinch of red chili flakes and salt. Peel the shrimp and place in the marinade for 5 minutes. Slice the mangoes into about 12 chunks each. Skewer the shrimp alternating with the mango on the skewers and grill or broil for 5 minutes, turning once, until completely pink.
- Recipe courtesy of Amy Sherman