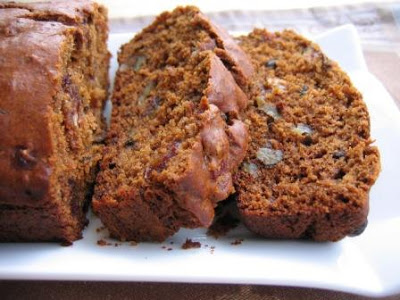 It is a little known fact that I can speak Japanese. True, I only know two words, but I say them well.
1. Hachiya. No, it is not a greeting. It's a persimmon.
2. Fuyu. No, not the clothing line (that's FUBU). They are also persimmons. Not to be confused with Russell Simmons (who incidentally created Phat Farm, not FUBU).
There are about a dozen varieties of persimmons grown throughout the world; only two are generally found in the States: Hachiya and Fuyu (Fuyugaki). Both are Japanese.
Though Hachiya and Fuyu persimmons are both fun to say and have similarly pumpkin colored skin, they are different in shape, texture, and culinary use. It's important to know the difference between them; otherwise, your persimmon eating experience will be memorable for all the wrong reasons.
Hachiya persimmons are acorn shaped and have deeper orange skin with black streaks on it. They are astringent, which means they can be eaten only when fully ripened. A ripe Hachiya is extremely soft and should be squishy in your hand. Removing the thin skin reveals coral colored flesh so thick and glossy it looks like marmalade, and tastes like it too -- it's pleasingly sweet with hints of mango and apricot. Though they can be enjoyed raw, Hachiyas are really prized for baking.
Heed this advice: DO NOT eat an unripened Hachiya. It's like biting into a very green banana. Your mouth will become dry and chalky, and you will contort your face into unattractive expressions that will frighten your companions.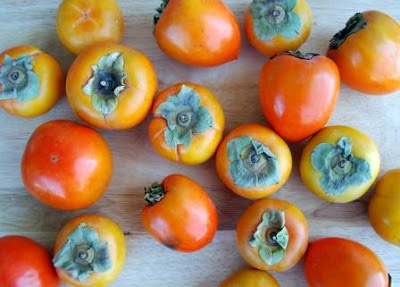 Fuyu persimmons in contrast are apple shaped and rather heavy for their size. Their skin ranges from pale yellow-orange to brilliant reddish-orange; generally, the darker the color, the sweeter the taste. Fuyu persimmons are non-astringent, which means you can eat them either firm or soft. Firm Fuyus can be eaten like an apple, and their crunchy flesh tastes like a sweet apple dusted with cinnamon. Soft, riper Fuyus can be also used for baking.
California persimmons are harvested from October to December, so it's the ideal time to make today's recipe: Persimmon and Date Bread from Food to Live By written by Myra Goodman, who along with her husband, Drew, run Earthbound Farm in San Juan Bautista, California. My cookbook is courtesy of Lillie, a lovely young woman who interned at Earthbound Farm this summer and graciously sent me a copy.
Infused with aromatic Chinese five-spice powder and ground cloves, this cake fills your home with warm aromas of autumn. The creamy Hachiya persimmons and honeyed Medjool dates create an exceptionally moist cake that is perfect for breakfast or an afternoon snack with a cup of tea. It is spicy (which I like), but if you don't, then I would suggest omitting the Chinese-five spice. The only change I made to the recipe was omitting 2 extra Tbsp of oil.
Persimmon and Date Bread
Butter or cooking spray, for greasing the loaf pan
2 large eggs
1/2 cup canola oil
2 very ripe Hachiya persimmons, peeled and mashed (about 1 cup)
1/2 cup chopped pitted dates (I used Medjools)
1/2 cup chopped walnuts, toasted
1 1/4 cups unbleached all-purpose flour
1 cup sugar
1 tsp baking soda
1/2 tsp baking powder
1/2 tsp salt
1/2 tsp Chinese five-spice powder
1/2 tsp ground nutmeg
1/2 tsp ground cinnamon
1/4 tsp ground cloves
To toast the walnuts, spread nuts in a single layer on a rimmed baking sheet. Bake for 5 minutes, then stir them. Bake another 3-5 minutes, until they are lightly colored and fragrant.
Position a rack in the center of the oven and preheat to 350 degrees F. Butter or coat with cooking spray a 5 by 9-inch loaf pan and set aside.
Place the eggs and oil in a medium-size bowl and whisk to combine. Add the persimmons, dates, and walnuts and stir to blend.
Place the flour, sugar, baking soda, baking powder, salt, five-spice powder, nutmeg, cinnamon, and cloves in a large bowl and whisk to blend. Add the egg mixture and stir to combine. Do not overmix or the bread will be tough. Pour the batter into the prepared loaf pan.
Bake the bread until a toothpick inserted in the center comes out clean, 60-70 minutes.
Let the bread cool on a wire rack for 15 minutes. Remove the bread from the pan and return it to the rack to finish cooling. Serve warm or at room temperature. The breakfast bread can be tightly wrapped in plastic wrap and refrigerated for up to a week.
Susan Russo is a free lance food writer in San Diego, California. She publishes stories, recipes, and photos on her cooking blog, <Food Blogga and is a regular contributor to NPR's <Kitchen Window.