by Alison Wonderland Tucker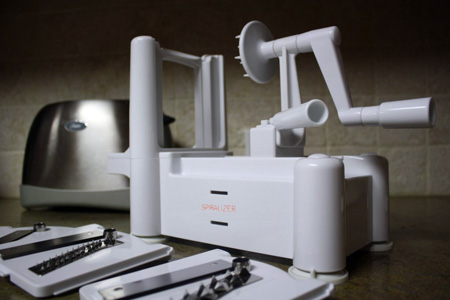 Now, I generally steer clear of plastic cooking tools that look like the crap sold on tv at 3:00 am. It dices! It slices! Hey, guess what? I do too! But a client of mine had ripped a page from her Williams Sonoma catalog with a picture of a vegetable extruder and I was intrigued. I did some investigating and found one a little cheaper on Amazon made by Bitoni with the magic words… lifetime replacement warranty. Now we're talkin'.
It's important to say that I was, at that time, thinking only of my clients. I had no intention of actually enjoying this product myself. I like my pasta, dammit. You're not going to convince me this is an acceptable substitute.
It's also important to say that I don't work for Bitoni. I'm not a Bitoni stockholder. I'm not trying to get you to buy one.
When it arrived, I had three challenges for the machine:
1 - I didn't think the extrusion would be substantial enough to stand up to a sauce. I didn't like the idea of a vegetable mellowing the "pasta" experience. But I was wrong. The "noodles" created by the machine are thick and long enough to create a toothsome meal. I also thought that I would only want to pair the veggie noodles with veggie sauces and that turned out to be untrue. I made an all' Amatriciana (guanciale, onions, tomatoes, red pepper flakes) and it was outstanding. Ragus have also been deliciously successful. I've been having a fantastic time playing with the culinary possibilities.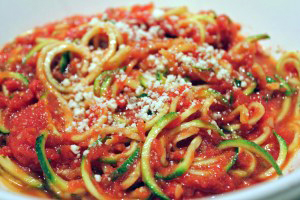 2 - Regular pasta acts like a sponge when it gets into a sauce. Would the un-absorbing zucchini clash with the sauce? Would it slide off? Also, I always add some of the pasta water to the sauce when I toss the noodles in. That starchy water adds body and flavor. How much taste would I lose without the starchy pasta/ starchy water? The answer was simple. I needed to reduce my sauces a little more than normal by simmering an extra 10 minutes or so. If the sauce was thick, the zucchini noodles could hold their own. There are definitely some sauces that I wouldn't do with zucchini noodles, e.g. cacio e pepe, which depends on the magic of starchy pasta water for success, but tomato sauces with or without meat, vegetable sauces and pestos are great.
3 - I just didn't think that it would make me feel full. There was no way in my mind that a half a zucchini with sauce would be enough. When I eat pasta, I EAT PASTA. I can put two full bowls of pasta away without a second thought. How in the world is one measly bowl of zucchini gonna fill those shoes? But here's the thing: the blood sugar spike that comes with a bowl of pasta doesn't happen when there's no pasta. The veggies play nicely without triggering the need for more, so actually you eat less and feel satisfied sooner. I also don't need to take a nap as soon as I'm done eating.
I know. It really sounds like I'm a Spiralizer rep. I'm not, I promise. I simply appreciate having my perspective changed. I also like the fact that I can come home from a busy day in the kitchen and put my dinner together in about 5 minutes. I often have fresh sauces in my fridge, so I spin a zucchini through the machine, nuke the sauce for a minute or two and voila! Dinner is served.
Alison Wonderland Tucker is a chef and caterer who lives and works in New York City. She writes about her love of food and life as a chef on her blog A Wonderland of Words.