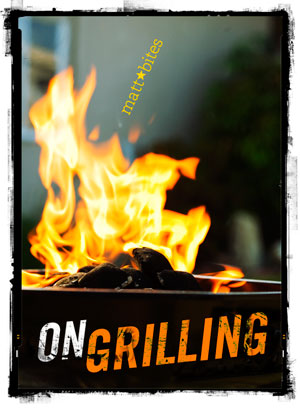 This weekend all over the country barbecue grills, Webers, hibachis and iron smokers will come alive with heat, delivering offerings of grilled fare that satisfy our most primal urges.
And while I'm no expert I do know my way around a grill. The good old Texas boy in me always surfaces the minute spring and summer roll around and before you know it I'm ignoring the oven and spending every night cooking al fresco.
Over the years I've learned some good lessons (blanching ahead saves time) and some bad lessons (keep an extinguisher handy or else) but there's always room for improvement. Below are a few things I've learned over the years:
1. Arm hair, while serving a protective biological purpose 10,000 years ago, isn't entirely necessary. One can live a relatively healthy life without it. Eyebrows are an entirely different matter.
2. While one might believe that outdoor grilling is best suited for meat, I've got some news for you: this meat eater finds veggies and meat alternatives absolutely brilliant choices for outdoor grilling. Then again, anything with a smokey char is a-ok in my book. It's not unusual for me to skip meat entirely when cooking on the grill.
3. There is a difference between barbecue and grilling. Grilling is directly over high heat and done quickly. Barbecuing is slow and over indirect heat. I'll repeat: Grilling is directly over high heat and done quickly. Barbecuing is slow and over indirect heat. There is a difference. Learn it live it love it.
And while I prefer a charcoal grill, a gas grill works in a pinch.
4. Rubs, sauces, marinades and finishes are all matters of personal preference. I bow to the Argentines when it comes to my personal favorite: nothing but salt and pepper. But you should start off with a high quality meat if you plan on minimal seasoning. But I don't have to tell you that.
5. I completely respect the master grill authorities–I own most of their books! However, my true grill education comes from my father who can advise on heat levels, times, and the exact number of briquets and wood chips needed for a particular method. Thank you, Dad!
6. I find barbeque tastes better when enjoyed with the following musical selections: Los Super Seven, Lucinda Williams, Laurindo Almeida, Willie Nelson, Marvin Gaye, Nina Simone or Freddy Fender. Feel free to add your own.
7. You've heard this said a bazillion times before, but there's a reason for that. Having the proper grilling utensils will really help you in the long run. And yes, outdoor tools are different than your indoor toys. Longer handles, thermometers, basting brushes and tongs built for grilling are worth the investment. Especially cute fancy color-coordinated aprons.
8. A quick blanching in the kitchen ahead of time is key when grilling vegetables. Squash, green beans, and onions will cook faster without burning.
9. I wouldn't dream of eating grilled food without wine. My friend Paul of the blog Champion Wines says "Grilled food supports big flavors in wine – a hearty red like a Côtes du Rhone (Eric Texier 2004 Côtes du Rhone) or a not over-the-top Zinfandel (Dashe Cellars 2004 Dry Creek Zinfandel) would work great. For whites, something fruity with nice acidity (Leitz 2005 Riesling Dragonstone) is a good balance to sweet and spicy flavors."

10. No matter your method or what you're cooking, cooking outdoors is an experience best enjoyed with friends.
Now hand me another rib and let me grab another glass of wine. Cheers everyone!
-- Also published on MattBites.com