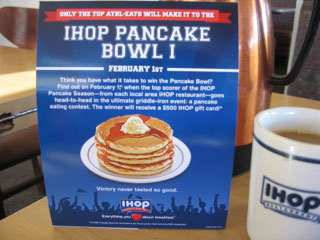 The first article I ever wrote for One for the Table was about how I came to love IHOP as a child, abandoned it as I got older, and rediscovered it much later. I'm still bereft that they took my beloved corn meal pancakes off the menu a few years ago, but when I got an email recently about their All-You-Can-Eat-Pancakes promotion from January 2nd to February 9th, I headed over to that iconic blue roof in Encino.
I did not intend to eat all I could, nor even the 10 pancakes required to compete in the Player Standings. Thankfully, that means that I will not be eligible to win free pancakes for a year. So rather than ordering the buttermilk pancakes required for having my plate refilled again and again, I decided to try two meals I'd never had before. (I ate less than half of each…honest.) First, I ordered the strawberry-banana pancakes, which were spoiled by the goopy, faux strawberry-flavor glaze. Then I got a Belgian waffle, which was perfect - crispy, light and delicious.
If the 39 days of the All-You-Can-Eat-Pancakes season aren't enough to keep you satisfied, this year IHOP has upped the ante by introducing the first IHOP Pancake Bowl, in which the top 10 high-scorers in the Player Standings from each participating region will compete locally during Super Bowl weekend to see who can eat the most pancakes. He who wins (could a "she" possibly win?) will get a $500 IHOP gift card.
In Los Angeles, all 116 IHOPs have joined the challenge. Given that I went for brunch very early in the promotion, I was impressed that a fellow named Kevin was #1 on the Players Standings board with 13 pancakes downed in one sitting. The next day I went back to see if anyone had surpassed Kevin, but he was still on top. Not wanting to waste a visit, I stayed and ordered something I hadn't had since I was a kid: chocolate chip/buttermilk pancakes. Fabulous, they were even better than I remembered them.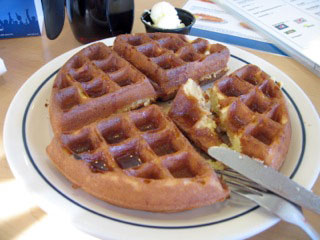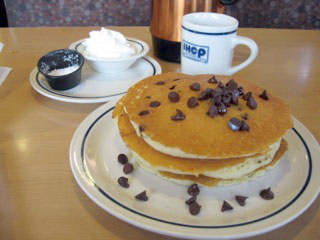 I'm eternally grateful that I have no desire to enter all-you-can-eat contests, but if you are a pancake lover, now's your chance to go crazy and compete. I intend to follow the Pancake Bowl, because I think it will be amusing, possibly dismaying, to see how many pancakes one human can eat in a single sitting. And I'm going be watching to see if Kevin makes it into the Bowl and brings home the bacon for Encino!
Ilene Amy Berg (aka The Berger Queen) is a Los Angeles-based television producer, antiques hunter, New York and London lover, and a spirited food adventuress.