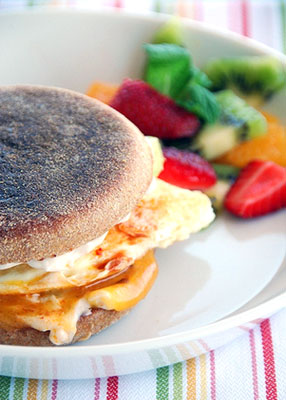 A healthy breakfast is the most important meal of the day. Plus it's an easy way to get a healthy dose of calcium for your bones.
Not a breakfast eater? Could you try eating breakfast for 3 weeks? Because that's how long it takes your brain to develop a habit, and this is one healthy habit.
Eating a healthy breakfast can help you:
Jump start your metabolism, so you burn more calories all day long.
Consume fewer calories throughout the day since you tend to be less hungry and make smarter eating choices.
Stabilize your blood sugar, which has been linked to a decreased risk of cardiovascular disease and Type 2 diabetes.
Concentrate and perform better at work (hey, maybe that whole wheat toast and scrambled eggs could help get you a raise).
Build endurance with physical activity, so your work-outs will be better.
What should you eat for a healthy breakfast?
Complex carbohydrates

or "good carbs" such as whole grains, fruits, and vegetables. (Pop-Tarts are not a whole grain).
High fiber foods.Fresh fruit and whole grain cereals help you stay fuller longer, so you won't be starved an hour after eating breakfast.

Lean protein

such as non-fat dairy, legumes, and egg whites. It keeps you satiated and builds lean muscle which helps burn fat and calories.
A little bit of

"good fat"

is optional. "Good fats" or monosaturated fats include olive, peanut, and canola oils as well as fresh avocados, most seafood, and most nuts.
When you're in a rush:
Power bars. Cliff Builder Bars are made with soy protein and taste great. They average 270 calories, 20 grams of protein, and have an impressive 25% of your daily calcium needs.
Whole wheat crackers with peanut butter and a glass of skim milk.
A smoothie made with calcium-fortified orange juice, soy milk, or skim milk.
A glass of skim milk, a banana, and a dozen dry roasted, unsalted almonds.
This egg sandwich can be made in less than 15 minutes and will keep those stomach growls at bay for hours. With a multi-grain English muffin instead of plain, egg whites, avocado, soy mayo, and a little cheese, this is one high calcium, high protein, satisfying breakfast.
Breakfast Egg Sandwich with Avocado and Chipotle Mayo
Serves 1
1 multi-grain or whole wheat English muffin
3 egg whites
a dab of olive or canola oil
about 1 teaspoon soy mayo mixed with 1 teaspoon chipotles in adobo sauce
1/4 of an avocado, sprinkled with lime juice
1 ounce cheddar cheese
Toast the English muffin. Mix the soy mayo and chipotle chili and set aside. Slice the avocado and sprinkle with lime juice to prevent it from oxidizing, or turning brown; set aside.
Rub a dab of olive or canola oil over the surface of a small non-stick skillet over medium heat Add egg whites and cook 2 minutes, or until slightly puffed; fold in half and cook 1 minute, or until lightly browned; flip, add the cheddar cheese, and cook 1 minute more (or until your preferred doneness).
Spread the chipotle mayo on the toasted English muffins. Add the eggs with melted cheese and avocado slices.
Serve with a side of fresh fruit such as calcium-rich oranges and berries seasoned with mint.
Susan Russo is a free lance food writer in San Diego, California. She publishes stories, recipes, and photos on her cooking blog, <Food Blogga and is a regular contributor to NPR's <Kitchen Window. She is also the author of Recipes Every Man Should Know
and The Encyclopedia of Sandwiches
.