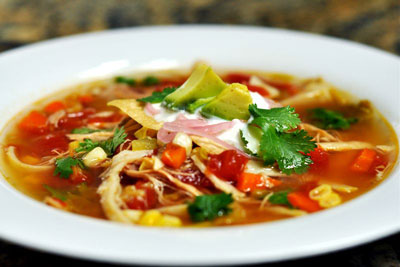 Chicken Tortilla Soup is a great choice during the winter months – hearty and packed with flavor with just enough heat to warm you on the coldest days. Using a store bought rotisserie chicken makes it quick to make, so it's great for a weeknight meal.
On a recent trip to Mexico City, I discovered Epazote, a pungent herb that is commonly used in Mexico, especially in the Yucatán. The herb has a slightly tangy, almost lemony flavor, and is somewhat reminiscent of oregano. It is used both for flavor and supposedly for its ability to reduce the flatulence associated with bean dishes.
I've included it in this recipe, and have also started adding it to my chili recipe, but it's very hard to find in the US, so feel free to omit. (You can find it online at the Spice House)
Easy Chicken Tortilla Soup
Serves 8 To 10
1 tablespoon vegetable oil
1 onion, chopped fine
1 red bell pepper, seeded and chopped fine
1 jalapeño chile, seeded and chopped fine
1 tablespoon chili powder
1/2 teaspoon cumin
1/4 teaspoon cayenne or red pepper flakes
1/2 teaspoon dried Epazote (optional)
3 cloves garlic, minced
2 quarts low-sodium chicken broth
1 store-bought rotisserie chicken (about 4lbs), skin discarded, meat shredded into bite-sized pieces (about 3 cups)
1 can diced tomatoes (14.5-ounce), drained
1½ cups frozen corn
1 tablespoon chopped fresh cilantro leaves
2 tablespoons lime juice
Salt and pepper
Optional garnish: avocado, shredded Monterey Jack cheese, sour cream, salsa, chopped tomatoes, pickled red onion
1. Heat oil in large Dutch oven over medium heat. Add onion, bell pepper, and jalapeno and cook, stirring frequently, until softened, about 8 minutes. Stir in chili powder, cumin, (optional Epazote) and garlic and cook until fragrant, about 30 seconds.
2. Add broth and shredded chicken to pot along with tomatoes, corn, cilantro, and lime juice and cook over medium heat for about 15 minutes. Season the soup with salt and pepper, to taste. Serve with optional garnishes.
James Moore has been a cooking enthusiast since childhood and started blogging as a way to share favorite recipes with friends and family. His site, Cook Like James has grown to include restaurants, cookbooks, wines, and favorite places.