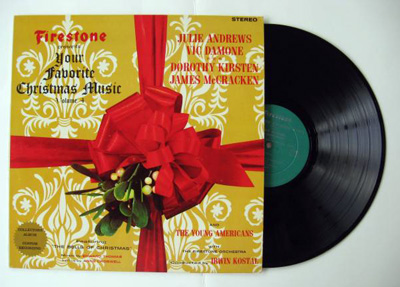 I was the youngest of five boys, most of them out on their own by the time I have any real Christmas memories. Being the baby of the family, and 8-years-younger than my closest brother, I had a different relationship with my dad than they did. He was an old-fashioned father and my arrival had been quite a surprise (they were hoping for a girl.) My mother passed away when I was five-years-old and my dad was forced to raise my brother Paul and me by himself for a few years before he remarried.
Our lives as a blended family weren't always easy, but Christmas was a time for tradition and like many people we had old ones and new ones. The week after Thanksgiving my dad and I would head out to the local tree lot. We always had a real tree and it had to be a Noble Fir, which has the best branches and spacing for decorations. If Dad was going to pay good money for a tree he wanted as many options as possible and the earlier you went the better the selection. Once we found our perfect tree, up it went onto the roof of our Buick Estate Wagon for the long journey home.
Since we had to wait for everyone to be home to decorate the tree - another immovable tradition - it sat outside in our backyard in a bucket of water so it would stay fresh until the "big night." Sometimes it was Christmas Eve, some years the weekend before. I always wished it was up longer, but the rules were the rules. To set the mood my dad would put on the Firestone Christmas album he got from his local tire dealer every year and then bring down the boxes of ornaments and lights the family had collected.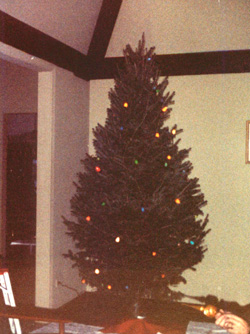 We ALWAYS used the big, multi-colored lights on our tree. Twinkling white lights were not acceptable. While he and my older brothers got the tree set-up and started on the lights, my step-mother and I would head to the kitchen.
Neither of my parents drank much, so why we made Rum Balls every year is a mystery. Perhaps because they are pretty easy to make and fun for a small child to form the dough into balls and roll around in the powdered sugar.
Notes from my Step-Mom:
There is a history to the rum balls. My first husband Chuck took me to a Christmas party in 1956 at the home of his boss at Chrysler Engineering, where I tasted Bourbon balls made by his wife Blanche Bell. I immediately fell in love with them. At the party she gave me a blank 3 x 5 index card onto which I copied the recipe.
They evolved as I made "improvements" thru the years--I made them from 1957 to 2003. Always with help from children and the last decade, grandchildren. The kids seemed to enjoy mixing the ingredients, molding the dough, and rolling them in sugar and my arthritic fingers appreciated the help. And thru the years people started expecting me to make them--for parties etc. -- because most adults liked them.
Every year we used that same bottle of rum, which lasted through my entire childhood. Since the recipe only calls for 1/4 cup of rum, it would have been hard to get away with drinking from that bottle as I got older.
We also made and decorated ginger bread cookies but to me rum and Christmas are forever entwined. My parents never seemed to mind my eating these, but you may want to keep these away from small children (there is alcohol in them); however, the adults at your party will thank you. If you want to give them an extra Holiday kick, crushed ginger wafers work really well, too.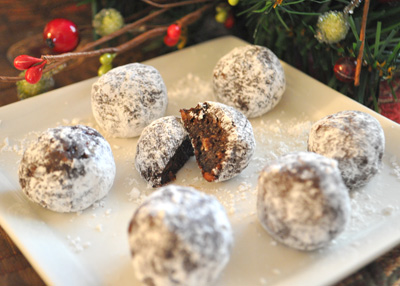 RUM BALLS
2-1/2 cups crushed vanilla wafers (about 75 wafers)
1 cup ground walnuts (or pecans)
1 cup confectioners' sugar
2 tablespoons plus 2 teaspoons baking cocoa
1/4 cup rum or bourbon
3 tablespoons honey
2 tablespoons water
Additional confectioners' sugar and/or crushed vanilla wafers or nuts
Directions:
In a large bowl, combine the wafer crumbs, pecans, confectioners' sugar and cocoa. Combine the booze, honey and water; stir into crumb mixture. Place in the refrigerator for about 1/2 hour to firm up the dough.
Shape into 1-inch balls. Roll in additional confectioners' sugar and/or wafer crumbs. Store in an airtight container.
If using powdered sugar to coat, the balls will absorb the coating, so if you're bringing them to a party, I would suggest waiting to dunk them into the sugar until right before you leave.
They can be served immediately, but the flavors come together better overnight. If you wait, don't powder them until right before serving.
Yield: About 2-3 dozen depending on the size of your balls.