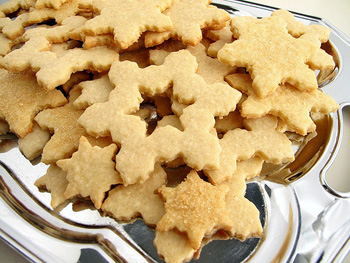 Baking season is in full swing and it seems that everywhere you turn there are cookies. Everyone loves biting into a sugary Christmas cookie. But I think the best part about cookies is making them yourself, and getting kids and even the adults involved. Baking batches of all different types of cookies is my specialty at Christmas. I bring them to parties at the office and share them with neighbors and friends. I always have some on hand for when people stop by to visit, which can happen quite often during the holidays.
There are so many ways to get involved in the holiday baking fun. Hosting a cookie-baking party is a great way to bring people together. Everyone can decorate their own cookies to eat and take home. Cookie swap parties also have recently become very popular. They offer the opportunity to show off your personal creations and share them with friends. The best part is guests get to go home with a variety of cookies all ready for them to share with their families.
Buttery shortbread cookies are my favorite to eat and make. They are easy to cut out and they don't lose their shape when baked. This recipe is basically shortbread dough but with coconut flakes for added festive flair. Coconut easily takes any sweet treat to the next level. Here shredded coconut is ground fine until it resembles snowflakes. Mixed into the dough, it creates a speckled cookie. Cut them out with snowflake cookie cutters, and they truly take on the look of snowflakes. Decorating with a bit of raw sugar adds to the wintry look. Share these with family, friends, and neighbors.
Coconut Shortbread Snowflake Cookies
1 cup loosely packed sweetened flaked coconut
2-1/2 cups all-purpose flour
1/2 teaspoon baking powder
1/2 teaspoon salt
1 cup (2 sticks) unsalted butter, room temperature
1/2 cup granulated sugar
1 large egg
1 teaspoon pure vanilla extract
1/2 cup raw turbinado sugar or sanding sugar, for decorating
Add coconut to the bowl of a food processor. Pulse until flakes are finely ground. In a medium bowl, whisk together dry ingredients: coconut flakes, flour, baking powder, and salt.
In a stand mixer fitted with the paddle attachment, beat the butter and sugar on medium speed until light and fluffy. Add egg and vanilla extract; mix until combined. Add the dry ingredients a little at a time on low speed, scraping down the sides of the bowl. Mix until combined. Form dough into two disks and wrap in plastic. Chill for 30 minutes to 1 hour.
Preheat oven to 350 degrees F. Line three baking sheets with parchment paper or Silpats.
Roll out one disk of dough between two pieces of plastic wrap to 1/4 inch thick. Keep second disk in refrigerator until ready to roll. Chill rolled dough for 20 minutes. Cut out cookies using a 3-inch snowflake cookie cutter or a 4-inch snowflake cookie cutter with a 1-1/2-inch snowflake cookie cutter for the center. Carefully transfer cookies using a metal spatula to lined baking sheets, arranging an inch apart. Reshape scraps of dough into a disk, wrap in plastic, and keep in refrigerator until ready to roll again.
To decorate cookies with sugar, brush with a bit of water and sprinkle with turbinado sugar or sanding sugar.
Bake cookies until golden, about 10 to 15 minutes. Let cool slightly in pan and transfer to a wire rack to cool completely. Yield: about 60 cookies in various sizes.