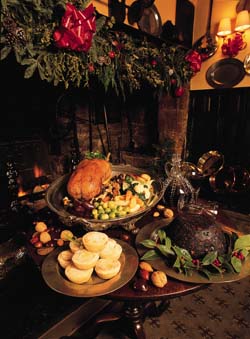 The Christmas Feast:
The Christmas feast was an elaborate affair, and in grand households, often featured an array of food beyond modern imagining: roasted swan, venison, peacocks (with spread tail and gilded beak) and – the crowning achievement – a boar's head.  There was also a variant on mincemeat pie…a huge stuffed pastry, filled with minced meats that had been sweetened with sugar and dried fruits.  Christmas pudding was also popular, but it was a savory affair, made with meat broth, chopped tongue, raisins, fruit juice, wine and spices, thickened with breadcrumbs.  And the holidays had a special comfort food, as well: furmenty, a hot cereal made with wheat slowly stewed in milk, served with raisins, sugar and spices, was quite popular.
 
The Christmas Season:
Parliament was out of session, and upper class families retired to their country homes for the Christmas season, where they enlivened the local shire with festivities a-plenty.  In fact, it's been said that the locals in the countryside voiced displeasure if the "great families" chose to spend the Christmas season in town (London), rather than organizing activities around their estates.  Hunting was among the most popular winter activities, and traditionally, the day after Christmas brought a festive foxhunt!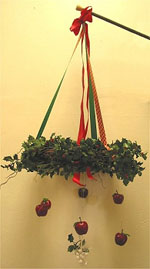 The Kissing Bough:
This hanging ornament of holly, ivy, rosemary and bay laurel was shaped like a crown, decorated with candles, ornaments and a ring of red apples.  Of course, there was a bunch of mistletoe suspended from the center of this garland…and often, small presents were attached to it with hanging ribbons.  By tradition, holly symbolizes masculinity and ivy, femininity; both were needed in the bough.  Holly, ivy and mistletoe – all evergreens that bear fruit in the winter – are symbolic of fruitful longevity. The kissing bough hung from the middle of the ceiling, skimming the heads of the tallest family members and guests.  The bough was the focal point of activity during the Twelve Days of Christmas—until it was supplanted in later years by the Christmas tree. 
Playing Snap-Dragon:
Snap-dragon was parlor game popular from the 16th to the 19th century, playing during the winter, but most especially on Christmas Eve.  Not for the faint of heart (or those without nimble fingers), the game was quite spirited: brandy was heated in a wide shallow bowl, with raisins floating in the brew as it was set alight.  Typically, lights were extinguished or dimmed to maximize the eerie effect of the blue flames playing across the liquor.  Players had to pluck raisins out of the burning brandy and eat them…with a potent risk of being burned!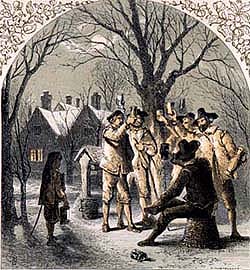 Here We Go a-Wassailing:
One traditional recipe for wassail, called "Lambswool," was made of ciders, ale, sugar, spices, eggs and roasted apples.  The mixture truly resembled strands of wool.

"Wassail" is symbolic of more than a Yuletide spirit – during the Regency and Georgian periods, Wassail came to stand for the celebrations of the holiday season (many of which made more festive by the drinking of wassail, of course).  These festivities included blessing the fields; paying homage to the twelve Apostles, and a wide range of Twelfth Night customs, including singing, mumming and guessing games.  Regional Wassail traditions included singing carols to apple and other fruit trees; singing to beehives…sprinkling wassail in and on said trees and beehives – all of which was done to ensure fertility and a good crop in the coming year.  One might wonder if an alcohol-free Christmas celebration might have been devoid of these traditional Wassail activities?

Gathering 'Round the Yule Log:
The Yule log was the foundation log for the Yule eve's hearth fire.  The Yule log was supposed to be very large; it had to be found and not cut; it was kindled with a section of the previous year's Yule log.  The log itself was treated as a very important guest on the Yule eve: libations were poured on it, songs sung to it; it was paraded about with much merriment and festivity.  It was considered very bad luck if the Yule log were to be outside on Yule day.  The ashes of the Yule log were considered magical, and treated with much ado: in a tradition that carried back ages, ashes were steeped in water to help assist animals in bearing young; ashes were placed in poultry nests for greater yield; and used to fertilize trees in orchards. 
Wassail
1 gallon apple juice
2 oranges
2 lemons
1 lime
1 tablespoon cloves
1 tablespoon allspice
2 cinnamon sticks
1 quart water
1 cup sugar

1. Heat the water to boiling. Cut the lemons and oranges (and lime if using) in half and squeeze the juice into a separate bowl to save, throw the skins and pulp into the boiling water. Add spices and simmer for one hour.

2. Remove the cinnamon sticks, a few cloves, allspice and save to one side. Using a slotted spoon or strainer remove the citrus peels and pulp and the remaining spices. Return the cinnamon sticks and saved spices to the water. Add the apple juice or cider and return to heat.

3. When boiling remove from heat and add the citrus juice and sugar. Simmer very lightly for another 10 minutes and serve. Delicious!
New York Times bestselling author Mary Bly is a Shakespeare professor at Fordham University.  As Eloisa James, she writes historical romances for Harper Collins.  She is the daughter of writer Carol Bly and poet Robert Bly.