I've always wanted to make a yule log or Bûche de Noël for Christmas. This year I vowed I would. Here is my updated version of the traditional holiday cake. Instead of the more common génoise made with eggs and sugar beaten over a bain marie, flour, and melted butter, I decided to make a flourless cake. Simply made with sugar, eggs, and ground walnuts, this recipe results in a light and nutty sponge cake. The filling of chestnut purée and a little bit of rum is my favorite kind. And the frosting is a traditional chocolate buttercream.

Hungarian in nature, this recipe is loosely inspired by the logs my great aunt used to make whenever we visited her in Hungary. I think you will find this cake to be highly irresistible. One thing to note: Since the cake is flourless, it does shrink after baking.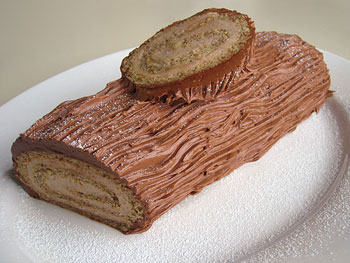 Walnut Yule Log with Chestnut Filling and Chocolate Buttercream

6 large eggs, separated
6 tablespoons confectioners sugar, sifted
1-1/4 cups ground walnuts
1 teaspoon baking powder
Preheat oven to 350 degrees F. Butter a rimmed baking sheet, line with parchment paper, and butter again.
In a small bowl, beat egg yolks by hand. In another small bowl, stir together dry ingredients: ground walnuts and baking powder.
In a stand mixer fitted with the whisk attachment, beat egg whites, adding sugar a little at a time, until soft peaks form. On low speed, drizzle in egg yolks. Fold in dry ingredients by hand until just combined.
Spread mixture evenly into prepared baking sheet. Bake for about 15 minutes or until edges are lightly golden. Immediately turn cake out of baking sheet onto a linen towel. Remove parchment paper and flip cake so that bottom is in contact with towel, and roll cake with towel. Set aside for at least 20 minutes, so that cake takes on rolled shape.
Unroll cake and spread evenly with chestnut filling. Roll cake starting from edge of one of the short ends. Wrap in towel and chill for at least 20 minutes.
Unwrap rolled cake and place on an overturned baking sheet with seam-side down. Frost cake with chocolate buttercream, working from top down onto sides; frost the ends as well. Using a fork, create bark-like ridges. Chill for at least 20 minutes.

Dust log with confectioners sugar. Using a hot knife, slice one end at an angle, remove and attach to the top of cake. Use leftover frosting for spot coverage on slice. Transfer log to a serving platter. Yield: 10 to 12 slices.

Chestnut Filling

1 pound chestnuts
1/2 cup (1 stick) unsalted butter, room temperature
1 cup confectioners sugar, sifted
3 tablespoons rum
3 tablespoons heavy cream
1/2 teaspoon pure vanilla extract

Using the point of a sharp paring knife, carefully peel outer shells of chestnuts, leaving inner shells intact.

Add peeled chestnuts to a pot of water with 1 tablespoon granulated sugar. Make sure chestnuts are covered with 1 to 2 inches of water. Bring to a boil and let simmer for about an hour or until chestnuts are knife tender.

Remove and discard inner shells of chestnuts. While still warm, press chestnuts through a sieve or potato ricer. Discard particles remaining in sieve.

In a standing mixer fitted with the paddle attachment, cream butter until light and fluffy. Beat in sugar on medium-low speed a little at a time until combined. Add chestnut purée and mix until combined. Add rum, heavy cream, and vanilla; mix until incorporated. Yield: just enough filling for cake.

Chocolate Buttercream

1 cup confectioners sugar
2 tablespoons cocoa powder
4 ounces (1/2 cup) semisweet chocolate, finely chopped or chips
1 cup (2 sticks) unsalted butter, room temperature

Sift together the dry ingredients: sugar and cocoa powder.

On medium-low heat, melt chocolate in a heat-proof bowl set over a pot of simmering water.

In a standing mixer fitted with the paddle attachment, cream butter until light and fluffy. Beat in dry ingredients on medium-low speed a little at a time until combined. Add the melted chocolate and beat until incorporated. Yield: enough frosting for one log plus a little extra.
Joseph Erdos is a New York–based writer and editor, but above all a gastronomer and oenophile. He shares his passion for food on his blog, Gastronomer's Guide , which features unique recipes and restaurant reviews among many other musings on the all-encompassing topic of food.