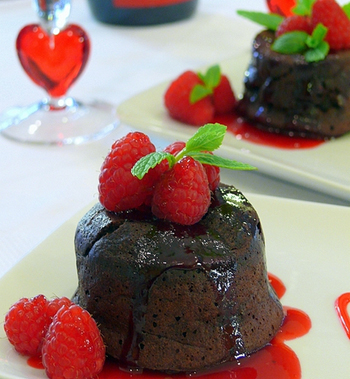 ¼ cup granulated sugar
2 Tablespoons unsweetened cocoa powder
2.5 ounces good quality dark or semisweet chocolate, chopped
¼ cup unsalted butter
2 large egg yolks
1 large egg
2 teaspoons all-purpose flour
Whisk together cocoa powder, flour and sugar until well combined. Set aside.
Over low heat, stir chocolate and unsalted butter in a small heavy saucepan until chocolate is melted and the mixture is smooth. Remove from heat.
Whisk in cocoa mixture until smooth. Then slowly whisk in lightly beaten egg and egg yolks, one at a time. Going slowly will prevent the eggs from scrambling in the warm chocolate mixture.
Butter two ¾ cup (6 ounce) ramekins, divide batter between them. The cake batter can be refrigerated at this point up to one day ahead. Place ramekins on a baking sheet and bake uncovered in a 350°F oven about 20-22 minutes. The edges of the cake should be set but the center should remain somewhat shiny. A toothpick inserted in the middle of the cake will emerge with some wet batter attached.
While cakes are still warm, cut around the edges with a knife to loosen and turn out the cakes onto serving plates. Plates can be decorated with red decorating gel found in the baking aisle of the grocery store.
Raspberry-Chambord Sauce
8 ounces fresh or frozen raspberries
1/3 cup Chambord liqueur
¼ cup granulated sugar
1 teaspoon cornstarch
1 teaspoon water
In a heavy saucepan, slowly bring to a boil raspberries, sugar and Chambord liqueur. Simmer for several minutes, breaking up the raspberries with a wooden spoon.
Run the mixture through a sieve to remove the raspberry seeds. Discard the seeds.
Return the mixture to the stove and bring to a simmer. In a small bowl dissolve 1 teaspoon cornstarch in 1 teaspoon cold water. Slowly whisk in the cornstarch to the simmering raspberry sauce until the mixture is thickened; about 1 minute. Remove from heat.
Sauce can be refrigerated at this point or kept warm to spoon over the cake. If you make the sauce ahead of time, warm up before serving.
To serve the cakes, place slightly warm cake on a serving plate. Spoon the warm raspberry sauce over the top of the cake. Garnish with sprigs of mint and raspberries if desired. Decorate plates with red decorator's gel.
Do you have leftover sauce? Spoon it over vanilla ice cream for another special treat.

Serves Two.
- Courtesy of Cathy Pollak