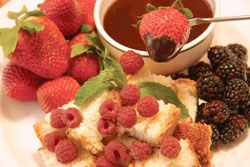 Serves 4
1/2 cup of heavy cream
8 ounces of the best quality dark chocolate, broken into small pieces
A couple tablespoons of liquor, optional

Heat the cream gently, take it off the heat when it gets hot, then add the chocolate and leave it alone for a couple of minutes to let the chocolate melt. Then whisk in the liquor and voila! chocolate fondue. The choice of liquor is up to you--Grand Marnier, Kirsch, Kahlua, whatever you like.

As far as equipment goes, you will need a fondue pot or a butter warmer to keep the chocolate the perfect consistency for dipping. What you use to dip is up to you but I like cookies or pound cake, banana chunks and raspberries.

Enjoy!
- Recipe courtesy of Amy Sherman