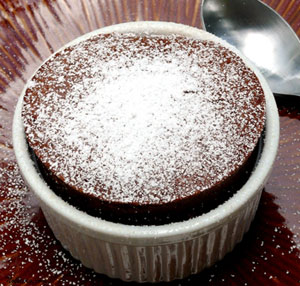 From Good Housekeeping
Makes four servings

Nonstick baking spray with flour
4 oz. bittersweet chocolate chips (scant 1 cup)
1/3 cup sweetened condensed milk
3 large eggs, separated, room temperature
2 Tablespoons confectioner's sugar, plus more for sprinkling on top

Preheat oven to 375o F. Generously coat four 4-ounce ceramic or glass ramekins with nonstick baking spray with flour.

In microwave-safe large bowl, microwave chocolate chips on High in 15-second increments, stirring, until just melted (1 to 2 minutes). Remove from microwave; with wire whisk, whisk in condensed milk. Whisk in 2 egg yolks until blended; refrigerate remaining egg yolk for another use.

In another large bowl, with mixer on medium speed, beat egg whites until medium-stiff peaks form (3 to 4 minutes). Add one-third beaten egg whites to chocolate mixture and whisk gently until incorporated. With rubber spatula, gently fold in remaining whites until just incorporated.

Divide batter among prepared ramekins. If preparing ahead of time, cover with plastic wrap and refrigerate until ready to bake. (Uncover before baking.)

Sift confectioner's sugar over tops. Place ramekins in jelly-roll pan for easier handling. Bake 11-15 minutes or until tops rise about 1 inch above rim; do not open oven while baking. Sprinkle with more confectioner's sugar. Serve immediately.
- Recipe courtesy of Cathy Pollak