This recipe makes a big batch. My boys like it in their lunch box the next day. Kept warm in a thermos with a side of corn chips and simple salad, sending them with a perfect whole meal is the best way to get them through their day.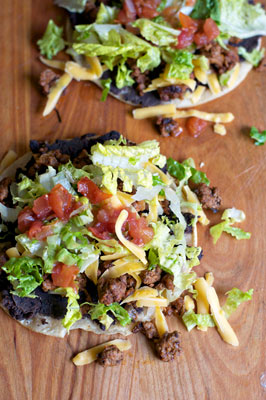 Ingredients:
3 teaspoon coconut oil
1 cup onion, diced
2 garlic cloves, minced
3 1/2 tablespoons chili powder
2 teaspoons ground cumin
1 1/2 teaspoons ground coriander
1/2 teaspoon dried oregano
1/8 teaspoon cayenne pepper
3/4 teaspoon Celtic Sea Salt
1/2 teaspoon white pepper
1 1/2 lbs. grass fed, organic ground beef
3/4 cups homemade chicken stock
3/4 cups tomato sauce
2 teaspoons sucanat
1 tablespoon cider vinegar
12 corn tortillas
Toppings:
black beans
shredded, organic lettuce
grated cheese
homemade salsa
Instructions:
Preheat oven to 250°F. Set a wire rack inside a jelly roll and set aside.
Heat a heavy duty fry pan over medium heat. Heat the coconut oil. Add the onions and saute until they become translucent.
Add the garlic and saute for 1 minute. Add the chili powder, cumin, coriander, dried oregano, cayenne pepper, Celtic sea salt, and white pepper. Mix and saute for 1 minute. Add the beef and saute until the meat is no longer pink. Pour in the chicken stock and tomato sauce. bring to a boil. Once boiled, lower heat and simmer for 15-20 minutes or until most of the liquid has cooked off.
While the beef is cooking, heat some peanut oil in a fry pan. Add one tortilla, cook for 1 minute. Flip the tortilla, using a pair of tongs, slightly fold over the tortilla. Don't let the tortilla close, keep it open with the tongs. When golden brown and crispy, remove from the oil and place on wire rack. Repeat with the rest of the tortillas. Place in the oven until ready to fill.
When the liquid has almost evaporated, add the sucanat and cider vinegar. Cook for 1 minute. Taste and adjust seasonings. Fill taco shells and eat! Enjoy!
- Recipe courtesy of Susan Salzman