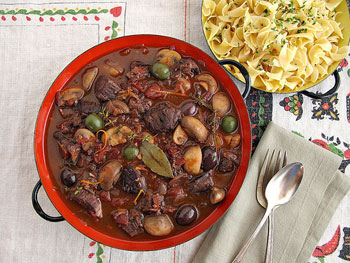 for the bouquet garni:
6 sprigs thyme
1 sprig rosemary
3 bay leaves
6 juniper berries, cracked
1/2 teaspoon black peppercorns
1/4 teaspoon coriander seeds
1/4 teaspoon fennel seeds
3 wide strips orange zest

for the stew:
2 pounds beef chuck, cut into 2-inch chunks
fine sea salt
freshly ground black pepper
olive oil
4 bacon strips, cut into pieces
2 large yellow onions, chopped
4 garlic cloves, finely chopped
1 tablespoon tomato paste
1/4 cup Cognac
1 15-ounce can diced tomatoes
1 750-ml bottle young red wine, such as Burgundy
2 tablespoons butter
1 pound button mushrooms, halved if large
1 cup black and green olives
1/4 cup finely chopped parsley, for garnish
egg noodles, for serving

Prepare the bouquet garni: On a large triple-layer of cheesecloth, lay the herbs, spices, and orange zest. Fold up into a bundle and tie securely with kitchen twine.

Prepare the stew by heating a 5-quart heavy bottomed Dutch oven over medium heat. Add about 3 tablespoons olive oil. Pat beef chunks dry and season with salt and pepper. Sear in batches until browned all over. Refresh pan with oil as needed. Remove beef and set aside.

Add bacon and fry until rendered and crisp. Using a slotted spoon, remove to a plate. Pour off all but 2 tablespoons fat from pan.

Add onions and sauté until soft, about 5 minutes. Add garlic and sauté until fragrant, about 1 minute. Add tomato paste and stir to coat vegetables. Pour in Cognac to deglaze pan and scrape up browned bits. Add tomatoes and cook down until thick and jammy, about 5 to 8 minutes.

Return beef and bacon to pan. Pour over with wine and add bouquet garni. Bring to a boil and reduce to a low simmer. Cover with a tight-fitting lid and cook until beef is tender, for 1-1/2 to 2 hours. Check during cooking to make sure beef is submerged under cooking liquid.

In a large skillet set over medium-high heat, melt butter and add 2 tablespoons olive oil. Add mushrooms and sauté until liquid releases and evaporates, about 5 to 8 minutes. Season with salt.

Over a large pot, strain solids from stewing liquid. Reduce cooking liquid by third. Check seasoning. Return beef and vegetables to pan. Add mushrooms and olives and rewarm until hot. Serve with buttered egg noodles and garnish with chopped parsley.
Yield: 4 to 6 servings.
- Recipe courtesy of Joseph Erdos