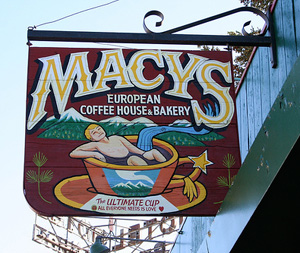 Four years ago Jeff and I took a memorable road trip through New Mexico and Arizona on the way to the Grand Canyon. I don't know what I loved more, the awe-inspiring landscapes or the outstanding cuisine we enjoyed along the way.

Of all the meals we savored, breakfasts were the most memorable. We had spicy veggie burritos, creamy skillet eggs with chiles, and crunchy blue corn French toast; each morning got better and better.

One morning we rose extra early to go for a hike. We drove to a trail on the outskirts of Flagstaff – a small yet vibrant college town with great bookstores, niche restaurants, and lots of students wearing hemp clothing. After a grueling hike in which we encountered brown bears and fossil remains (alright, maybe not bears, but we did see several freakishly large squirrels), we made it back to town famished.

We hit the first breakfast spot we found. An enticing aroma of freshly roasted coffee lured us straight into the front door of Macy's European Coffeehouse, Bakery & Vegetarian Restaurant, a quirky eatery offering a delicious array of healthful vegetarian dishes.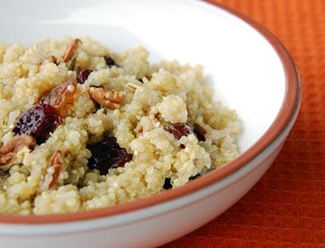 Despite my gnawing hunger, in typical fashion, I couldn't decide what to order. As I was debating, a groggy voice behind me said, "Get the breakfast couscous. It's the best thing here." I turned around, and the voice came from a young guy who had an eerie resemblance to Leo from That '70's Show, with long hair and John Lennon glasses.

"Really? I was thinking of getting the steamed eggs," I replied. "Oh, yeah. The steamed eggs. Those are like the best thing here." He wasn't helping. Thinking quickly before we went into hypoglycemic shock, Jeff ordered both the couscous and the steamed eggs for us to share.

As we were leaving, I noticed another guy eating something that looked like a burrito. I said, "Hey, that looks good, what is it?" He replied, "The breakfast burrito. It's the best thing here, man."

Though Macy's used couscous with apricots, raisins, and almonds, feel free to substitute any dried fruits and nuts you prefer. Since I love, "the super grain," quinoa, which is higher in protein, I often use it instead of couscous. My current favorite combination is dried cherries, raisins, and pecans, but I also recommend dried cranberries, raisins, and pistachios.


Breakfast Quinoa with Dried Cherries, Raisins, and Pecans
Makes 2 main or 4 side servings
Yields about 2 1/2- 3 cups

1/2 cup dry quinoa, rinsed
1 1/4 cup boiling water
1 tablespoon Smart Balance light buttery spread, melted
1 tablespoon brown sugar
1/4 teaspoon pinch of salt
1/4 teaspoon ground cinnamon
1/4 teaspoon pure vanilla extract
1/8 cup dried cherries
1/8 cup mixed raisins
1/4 cup pecans, lightly toasted

To toast the pecans, place in a small, dry skillet over medium heat. Shake the pan handle in a back-and-forth a few times for about 2 minutes, or until nuts are lightly toasted and fragrant.

In a small, heavy bottomed sauce pan, bring water to a boil. Pour the uncooked quinoa in a fine-mesh sieve; rinse and drain. (This helps remove some slight natural bitterness from the grains). Add the rinsed quinoa to the sauce pan, bring to a boil, then cover and reduce to a simmer for about 15 minutes, or until the quinoa absorbs the water, puffs up, and turns translucent. If the water has evaporated before the quinoa is cooked, just add a bit more water. They should maintain a slight crunch when cooked.

Meanwhile, in a small pan over medium-low heat, add butter, brown sugar, salt, cinnamon, and vanilla. Stir until melted. Pour over cooked quinoa, and add dried fruit and nuts. Toss until combined. Serve hot or at room temperature.
Susan Russo is a free lance food writer in San Diego, California. She publishes stories, recipes, and photos on her cooking blog, <Food Blogga and is a regular contributor to NPR's <Kitchen Window. She is also the author of Recipes Every Man Should Know
and The Encyclopedia of Sandwiches
.