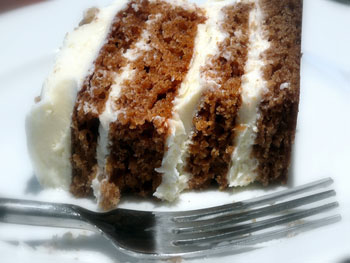 Alton Brown's 18-Carrot Cake
While the name of this cake is 18-Carrot Cake, there are not eighteen carrots in here, nor does it refer to gold in any way, Alton Brown just liked the name.

I make carrot cake every year for my husband's birthday, it's his favorite. And every year, I make a different recipe for no other reason than to just try another variation. Why not? This one was quite excellent with a very refined texture. I love Alton Brown and the science background he puts behind every recipe. His cookbook goes into deep explanations as to how and why we mix, stir, beat etc. If you are interested, it's worth the read and gives you reason for doing the things we do in the kitchen. I like that.

I have always believed many baking failures occur because of mis-measurement of ingredients and over-mixing errors. I love that Alton's cookbooks give a weight and volume measurement for every ingredient. I decided to even weigh my spices this time around and it was eye-opening to see how "off" measuring spoons can be in reference to what a certain ingredient should weigh.

Needless to say I weighed everything and the cake came out delicious. Even both my kids ate it. Yes, both of them. I was amazed, and my 10-year old has now requested this cake for his birthday. I think I've entered the twilight zone. What everyone liked was the absence of nuts and coconut on the inside (but I did put walnuts on the outside frosting). My husband is not a fan of coconut so this really elevated the status of this cake for him.
Alton Brown's 18-Carrot Cake
Adapted from Alton Brown, I'm Just Here For The Food

For the cake:
8 ounces (3-4 or more) raw carrot, grated
8-1/2 ounces (1-3/4 cups) all-purpose flour
1/4 ounce (1 teaspoon) baking powder
1/4 ounce (3/4 teaspoon) baking soda
1/4 ounce (1 teaspoon) ground cinnamon
1/8 ounce (1/2 teaspoon) kosher salt
3/4 cup whole vanilla yogurt (I substituted whole sour cream & mixed in vanilla extract (about 1 Tablespoon)
2 ounces vegetable oil
10 ounces granulated sugar
5-1/4 ounces eggs (3 large)
Walnuts for around the side of the cake are optional

For the frosting:

*I doubled this recipe because I made a 4-layer cake. The recipe below is not doubled.

4 ounces (8 Tablespoons) unsalted butter, room temperature
2 eight-ounce bricks of cream cheese, room temperature
1/4 ounce (1/2 teaspoon) vanilla extract
9 ounces confectioners' sugar

The first thing I did was grate my carrots. Alton suggests using a box grater, utilizing the smallest holes but I used my food processor with the shredding blade. The recipe indicated using 3-4 carrots or 8 ounces. After shredding 4 carrots I had only 5 ounces. Without a digital scale I would not have known this. You will never regret purchasing a digital scale if you do a lot of baking, you will have a lot more successes come out of the oven.

Combine the flour, baking powder, baking soda, cinnamon and kosher salt by sifting them on top of the carrot mixture and stirring them together. Alton recommends using a food processor to sift the dry ingredients. I did use the food processor but a sifter will also be fine. Just know that sifting is a necessity no matter which method you use.

The recipe also indicated to mix the wet ingredients in the food processor until fully combined and slightly thickened, which I did; whole vanilla yogurt (I substituted sour cream and added vanilla extract until it tasted like vanilla yogurt), vegetable oil, granulated sugar and eggs.

Add the wet mixture to the carrot mixture and combine with a whisk. DO NOT OVERMIX. Drop the whisk and walk away 10 seconds before you think it's done. There will still be lumps in the batter but they will bake out. If the batter is smooth, you have overmixed.

This recipe called for using one, round 9 x 3 pan and creating layers from one cake. I only have 9 x 2 pans so I prepped them and divided the batter evenly.

If you use a 9 x 3 pan bake for 45 minutes at 350 degrees, then lower the oven temperature to 325 and bake for another 15 minutes.

If you two, 9 x 2 round pans, bake for 15 minutes at 350, then lower temperature to 325 for another 15 minutes. These will cook fast. If you have a thermometer, you are looking for an internal temperature of 205-210 degrees. If you don't have a thermometer, make sure a toothpick comes out clean when placed in the middle of the cake.

Allow the cake to cool 15 minutes in the pan before turning out onto a rack to cool completely.

While you are waiting for the cakes to cool, make the frosting. Since I made a four layered cake, I doubled this frosting recipe.

Using the mixer with the paddle attachment, cream the butter and cream cheese together at 50-percent power until smooth. Add the vanilla and beat until it's combined.

Drop the speed to 25-percent and slowly add the sugar in 4 batches, beating until smooth between each addition.

Split and frost the cake.

Keep refrigerated.
Cathy is currently in the development stages of her vineyard and winery in the Willamette Valley of Oregon. She is a food writer for Davis Life Magazine and blogs daily about wine, food and everyday living. She lives with her husband and two sons. You can visit her at noblepig.com.