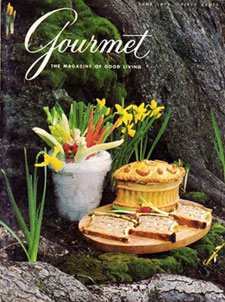 Call it denial having taken this long to write about it. Call it anything you want but there will be NO MORE Gourmet magazine in anyones mailbox ever again and that will take a lot of getting use to. It was always the first food magazine that I opened each month, the others could wait. Of course it's shocking and sad, the end of an era and no more Ruth piloting the ship. And I will most miss her.
I have to admit that I was less then happy when she became the "new" editor, the magazine changed so dramatically or was it overdue to become more modern? Less elitist, less snobby, more real, perhaps? Well, Ruth you sure changed it! Last year I had the pleasure of spending a few hours with Ms. Reichl at a literary writers weekend in Camden, Maine. As part of the weekend event the hosts invited us to a Saturday night "church supper" Maine style. In the big, white Congregational church nestled among the oldest grove of Maple trees in full color was the venue for the event. Various restaurants in the area were picked to make each different course for the dinner.
My sister and I walked in to a large rectory hall filled with three very long tables adorned with burnt orange tablecloths and seasonal bouquets of autumn flowers – very small town lovely. My sister said, "I am picking the seats, not you, I am not sitting just anywhere..." Well my sister picked a chair next to an impeccably dressed older women and I sat opposite her, when she pulled out the chair there was a handbag on the chair. The older women said that the seat was taken for her friend who would be joining her soon. Molly O'Neil was sitting two chairs away and Michael Ruhlman was three chairs away on the opposite side of the table. You get picture, everyone that was lecturing were clustered together except for my sister and me.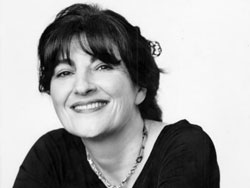 My sister and I were talking about all the interesting things that we had learned that day, the people, the conversations, it was a perfectly inspiring day and to top it all off the church supper. A great weekend! And then guess who the seat was saved for, that's right...Ruth Reichl. Right across from us! I kicked my sister under the table as I have done so many times before, it always get her attention and whispered in here ear that our dinner guest was . Tanya looked at me in disbelief, smiled and preceded to ask this women if she was indeed Ruth Reichl. Ruth softly answered that she was and my sister then said, "Good! My sister has a bone to pick with you!" And the conversation started and never stopped for 4 solid hours with Ruth taking copious notes on where to eat and go in Maine, it being her first visit but not her last.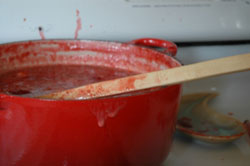 So, what was the bone I wanted to pick with her? In Gourmet she mentioned that making jam was too labor intensive for most home cooks and it was all right to make freezer jam which is quick and more than okay... What???? Where did the editor of Gourmet get off telling people that it was okay not to waste time making Jam? Was she kidding??? No, she wasn't. She explained that no one wants to take the time anymore..Blah, blah. I listened and I said "Ruth I am going to let you in on a secret to jam making." I had her undivided attention! "I make small batches in a skillet, just sliced fruit, sugar and lemon juice and you know what? If I get busy or interrupted I simply turn off the heat let it cool and pop it in the refrigerator until I have a quiet moment to finish it. I just turn it off! That way no one misses the pleasure of eating homemade jam."
She smiled and said I would love for you to teach me to make sour cherry jam. Well, maybe once the dust settles from Gourmet's closing and the book tour is over maybe Ruth and I will make jam together hopefully in my store kitchen in July with all the best fruit surrounding us....with no interruptions until the jars are all filled.
Brenda Athanus runs a small gourmet food shop in Belgrade Lakes, Maine with her sister Tanya called the Green Spot.
The Green Spot
This email address is being protected from spambots. You need JavaScript enabled to view it.
207.441.9327