There are many reasons great barbecue tastes so mouthwateringly amazing, but the main ones are experience, time and passion. Adam Perry Lang is bringing his extensive knowledge, years at the pit and love of all things smoked and grilled to Hollywood for a 6 week pop-up to showcase what authentic barbecue is all about. Not your usual temporary restaurant, Lang is lodging behind the El Capitan Theater in an open air parking lot thanks to his good friend and fellow food-lover Jimmy Kimmel.
As the author of "Serious Barbecue"
which he's currently re-releasing himself, Lang is sharing his time-tested techniques with the people of LA and any lucky tourist who happens to be drawn in by the smell. His expertise with meat has been sought out by many other top chefs like Mario Batali and Jamie Oliver, but he's recently moved to Los Angeles with the hope of settling in for the long haul. The Backlot BBQ is a way for him to get in touch with the local community and learn the ins and outs of this sprawling city without having to commit, quite yet, to a more permanent location.
Real barbecue takes special equipment and a lot of time, so taking over an existing space was not an option. Here, just south of Hollywood Blvd. off an alley on Orange Street, Lang has created his own little sanctuary of smoky goodness with an Airstream to catch a few winks in the wee hours, along with his 2-ton, custom-built pit smoker and a Texas burn pit to make their own charcoal from cords of split pecan wood imported from the Longhorn State as well. Sleeping in a parking lot? Talk about devotion.
On our first foray down to this tucked away location, we had the pleasure of trying his signature BBQ beef short rib with Texas Toast, Sweet Pickles and Honey BBQ sauce. We were so excited, the smell so enticing, we each ordered our own plate. Needless to say It was large enough for two people to share (at least two women), so we had plenty left over for dinner later in the day. (It was just as good reheated.) You can take your box to go or stand at one of the wine barrels subbing as table tops.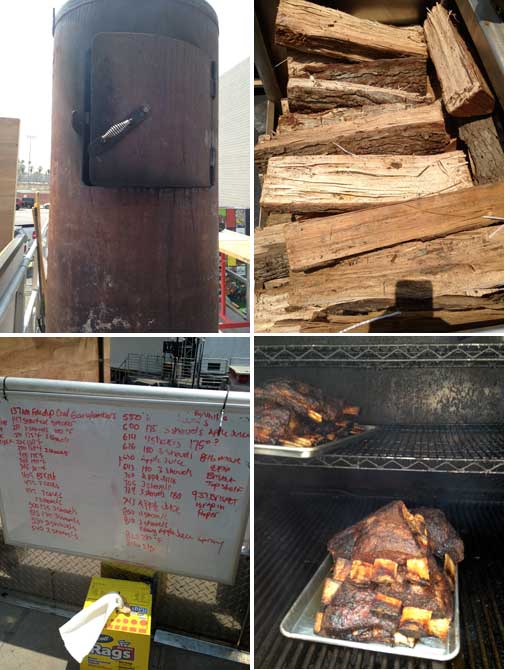 Being carb-conscious I initially wasn't going to eat the bread, but the soft, cinnamon-tinged toast along with the acid-zing from the pickles and sweet heat from the sauce created the perfect smoky, tangy, savory bite. I found myself quickly stuffing my face with more, Texas Toast and all. Man, does he know what he's doing.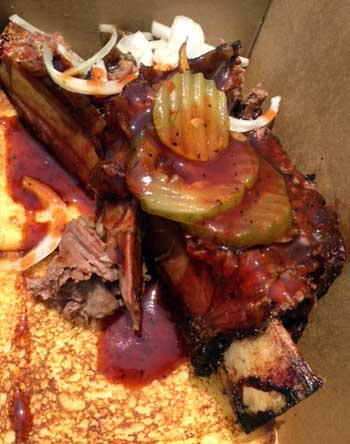 Everything is on the plate for a reason. Don't think. Just indulge. I was initially a bit shocked by the price - $23.50 for this days fare - but the sting quickly melted away with each meaty mouthful. I have never tasted a beef rib better than this. In fact my mouth is watering again just thinking about it.
Lang is living his dream and if it takes 12 hours and sleeping in a trailer to bring it to the plate then I applaud his efforts. Whatever it takes. It's worth every penny. That he happens to be one of the most approachable and humble chefs I've ever met, is pure gravy.
If you happen to find yourself in the Hollywood hood this summer, stop by and watch the master at work. If he's behind the board, ask him anything about BBQ. He wants to help people learn (cooking demos are in the works) and his knowledge about how to get the best out of any grill or cut of meat is vast and not always complicated. Sure many of his recipes take time, but after eating his efforts, they have finally inspired my husband to take the cover off our grossly, under-used smoker. Now I'm thankful to Adam for two things this summer.
Backlot Barbecue
Behind the El Capitan Theater. Entrance just south of Hollywood Blvd. off Orange Street. Open Tuesday-Thursday from 11am-3pm until September 5th. The all-meat menu will change weekly depending on what inspires him. Prices will range from $15 to $40 for that's days cook. (Currently cash only.) Food donations are being made to help two local charities the L.A.C.E.R. Afterschool Program and P.A.T.H.