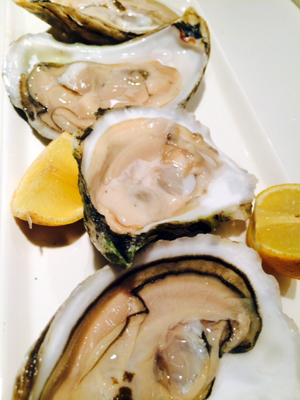 Everyone has an event that ignites the holiday spirit. Maybe it's a family outing to cut down a tree or baking spicy, fragrant cookies but for me it's that annual telephone call a week in advance and the magical ride to Glidden Point Oyster Farm in Edgecomb, Maine.
The phone call and the ride is the start of the holiday season for me, it's even better then listening to Handel's Messiah. I order plenty to last from Christmas Eve through New Years Eve, and I serve them in copious quantities.
Barb Scully, the owner of the oyster farm, dives 40 foot deep into the 'brisk' water of the Damariscotta River in front of her business/home-that is her description. I should add that the brackish water is almost frozen by Christmas and she generally stops diving for oysters by the 25th, closing her operation down for a few months.
She is a skinny, short-haired woman with pasty white skin and a constant indentation circling her face from her diver's wet suit. She has a rather abrupt manner to her, but boy, are her oysters the Rolls Royce of shellfish. When I get them they are barely hours old and she dives for the big ones, especially for me. I'll eat little oysters if I have to but I prefer the older, jumbo ones - luncheon plate size.
First and formost for me is the flavor, an average size 2 to 3-year-old oyster lacks that intense, fatty, briny flavor that a mature oyster has. Never mind the size is way too small to do anything with like baking, grilling or gratineeing…or just plain eating them raw with a squeeze of lemon. I adore the flavor of the terrior of Edgecomb and the fatty taste of a 10 plus year old oyster. The deep cup and jumbo size of Glidden Point oysters are what holiday memories are made of.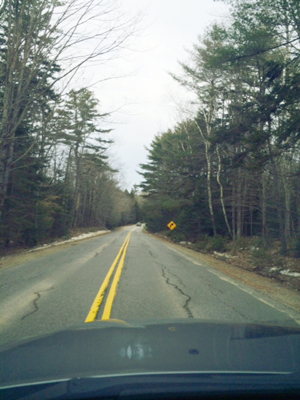 Barb puts up my order in a net bag - an onion bag too be exact with my name in bold letters on the tag. Her handwriting is a little shaky most likely from working so hard in the frigid waters. It makes me permanently smile when I see my bag sitting off to the side in the glass front double door cooler. Did I mention it is frequently self-serve, with an honor box? Maine at it's best and how precious is that? That is how she does it when she is out diving for more oysters to fill all her holiday orders or tending to her 2 kids.
I love it all. The drive down takes only an hour but the last 5 miles I drive very slowly because the road is very curvy. There is also a super pothole that could break my front car shocks, but I never remember exactly where it is. Even if there wasn't a super pothole this road is be savored, it is that lovely.
The drive down the River Road is so beautiful. I slowly pass one perfectly shaped Christmas tree after another, a forest full for miles. The roadside is flanked by stone ledges dripping with slow moving water that's slowly turning to gnarly ice sculpture right before my eyes. Thoughts of sugar plums are dancing in my head along with all the meals I am planning out for the precious days between Christmas and the New Year.
Glidden Point Oyster Company
70 River Road
Edgecomb, Maine 04556
(207)633-0767
LEEK SAFFRON BROILED GLIDDEN POINT OYSTERS
1/2 julienned leeks, white part only
2 tablespoons of butter
1/4 cup of julienned red pepper
1 teaspoon saffron threads
1/2 cup Champagne
1 cup heavy cream
Salt to taste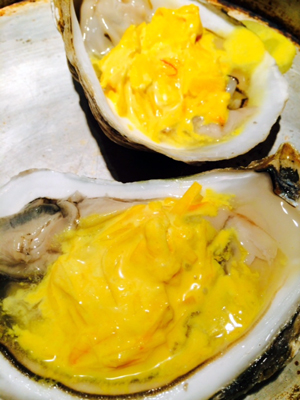 Depending on the size of the oyster serve 3 to 6 oysters per person. This topping will be enough for 18 oysters.
Sauté the julienned leek in butter slowly over low heat so it doesn't take on any color. Add the red pepper to the leeks and cook for a couple of minutes to meld the flavors. Add the saffron and stir until it becomes fragrant-a minute or two. Add your Champagne and cook down to 3 or 4 tablespoons, then add the heavy cream. Reduce until it coats a spoon and is a thick-ish sauce consistency.
Decide how many oysters per person-3 to 6 for a first course depending on appétit and how they fit into what else you are serving. Place the oysters on a baking sheet and place into a 400 degree oven until they open just a crack. This step will not cook them, just warms them enough to be easy to open. Pop the shells open, loosen the oyster and place the oysters on the half shell on a metal serving platter covered with salt to keep them stable and it's a nice presentation.
After all the oysters have been shucked, drain and strain a third of the oyster liquor that is left and add it to the leek saffron sauce. This will make the sauce a perfect consistency and marry the sauce to the oysters.
Spoon enough sauce over each oyster to cover and place under the pre-heated broiler until you see little golden brown spots appear. This happens very quickly so stay at the oven until they are done.
Brenda Athanus runs a small gourmet food shop in Belgrade Lakes, Maine with her sister Tanya called the Green Spot.
The Green Spot
This email address is being protected from spambots. You need JavaScript enabled to view it.
207.465.2921