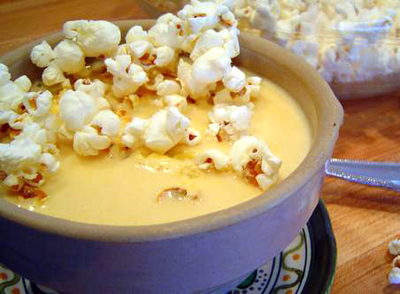 I 'd always look forward to this time of year when I worked at North Dakota State University. One of my colleagues would bring a big slow-cooker full of her delicious Beer Cheese Soup. Up to that point in my life, the only Beer Cheese soup I had tasted was served at a Fargo restaurant. It was very thick, very cheesy and very goopy. In my opinion, too thick, too cheesy and too goopy.
Nancy's Beer Cheese Soup would send a sweet, yeasty beer aroma wafting through the NDSU hallway. Lunch that day would be a big mug of soup ladled from the hot slow-cooker topped with freshly popped corn right out of the microwave oven.
Now, I don't normally do much cooking with Cheez Whiz, but I just can't make this soup any other way. You'll see why when you taste it. The soup is light and creamy with just the right amount of beer and cheese flavors. I use unsalted butter in this recipe. The soup gets plenty of salt from the Cheez Whiz and chicken broth.
You just can't eat this soup without a big heaping pile of popcorn on the top of each serving. I happened to be shopping in St. Paul yesterday along Grand Avenue. I stopped in to Golden Fig, a cozy little shop offering fine food products from smaller producers in Minnesota and the surrounding region. I purchased a bag of Clem's Homegrown Popcorn. Clem has been growing popcorn in Castle Rock Township in Minnesota for around 20 years. Clem's isn't just any popcorn, though. He grows a small crop, about 2,000 pounds, which is all handpicked in November of each year, then air-dried to the perfect moisture level. All this special attention results in big pieces of perfectly popped corn with very few unpopped kernels left in the pot. It's the perfect complement to a steaming hot cup of Break-Room Beer Cheese Soup.
Laurie Crowell, who owns the store, believes Golden Fig may be the only place in St. Paul that carries Clem's Homegrown Popcorn. But that's just one reason to stop at her store to browse. I was just like a little kid in a candy store as I carefully studied the shelves of fine food products.
Of course, Laurie has all of her Golden Fig Epicurean Delights in the store. She's been blending small batches of spices, vinegars and infused sugars for 10 years. My bag was full of goodies when I left—all food from small producers in Minnesota.
I'm not Irish, but I like to celebrate the day with this Break-Room Beer Cheese Soup. Thanks to Nancy.
Break-Room Beer Cheese Soup
• ½ cup (1 stick) unsalted butter
• 1 cup flour
• 2 (14-ounce) cans reduced-sodium chicken broth, or 3½ cups
• 1¾ cups hot water
• 1 (15-ounce) jar Cheez Whiz
• 1 pint heavy whipping cream
• 1 (12-ounce) bottle of beer
• Popped corn
In heavy 4-quart pot, melt butter. Gradually add flour, mixing until smooth. The mixture will be crumbly when all the flour has been mixed in. Continue to heat the flour mixture for 2 more minutes to eliminate a raw flour flavor.
Remove the pot from the heat and gradually mix in the chicken broth. When mixture is smooth, return pot to heat and add hot water. Blend well. Stir in Cheez Whiz, whipping cream and beer. Heat and stir occasionally until cheese is melted and soup is hot. Transfer to slow-cooker if you want to keep it hot for a group of friends to enjoy.
Have a big bowl of popped corn prepared so that each guest can use it to top their soup.
• When cooking with beer, be sure to use a kind that you would enjoy drinking. You'll taste it in this soup.
• I used the chicken broth I had in my pantry, but next time I may try the garlic-flavored chicken broth with roasted garlic that is available in grocery stores.
• While I'm preparing the soup, I like to preheat my slow-cooker by filling the crock with hot water and turning the cooker on the highest temperature. When I'm ready to transfer the soup to the slow-cooker, I just dump out the water and pour the soup into a nice hot crock. I switch the cooker to the lowest temperature to keep the soup warm.
Sue Doeden is a popular cooking instructor, food writer and integrative nutrition health coach. She is the host of Good Food, Good Life 365 on Lakeland Public Television. Her own hives full of hardworking bees and her love of honey led to the creation of her recently published cookbook, Homemade with Honey.