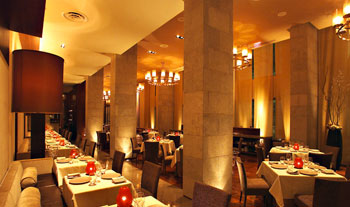 It was the best of climes…it was the worst of climes. Well, perhaps not either, but pretty damn cold.
A winter meeting in Washington: five days, four nights, and four dinners to review…
With the temperature in the teens and snow on the way, lured by a rave review in "The Week: The year's best restaurant in D.C.," we ventured out of our cozy hotel and taxied across town for the build your own, $90.00 per person, 4-course dinner at CityZen, Eric Ziebold's (late of the French Laundry) 8 year old New American-French-Asian-Fusion restaurant in Washington's Mandarin Hotel: trout tournedos in pastry, venison medallions, pastrami cured sweetbreads, something with beets, nothing on the menu mentioned in the review, and the high memorable point of the evening: the hostess waiting with our coats as we neared the exit. "No need for a coat check…we know who you are." Next time, settle into the hotel lobby, beautiful décor, lively lovely guests, and order off the lobby bar's supper menu after you've downed a few dozen of the assorted olives and the salty crunchy Asian accompaniments provided with your cocktail. You won't be sorry, and you'll have ample room on your expense account for your next big meal.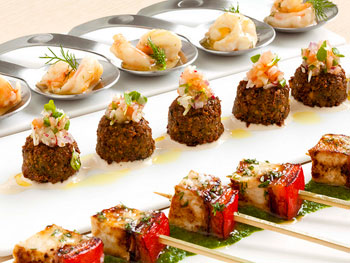 The next evening, the cousin's daughter, high security clearance at the Treasury Department, and her economist significant other, arrange to meet us at Zaytinya, on 9th Street NW, Chinatown stop on the Redline subway, catty corner from the National Portrait Gallery (don't miss if you've never been). This is "innovative Turkish, Greek, and Lebanese cuisine" from the very capable hands of the Spanish Chef Jose Andres.
Go with a small crowd, cover the table with assorted mezzes ("small plates"), and, among the myriad choices, enjoy the butternut squash hummus, the crab cakes with roasted garlic yogurt, the carrot-apricot-pine nut fritters in pistachio sauce, the salmon with coriander, cardamom, pickled Lebanese chili oil, pine nuts and tahini, and fresh hot puffed pita that needs to make its way to the West Coast very soon.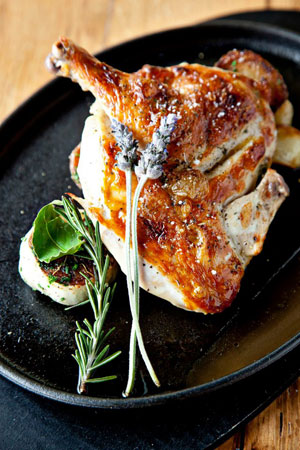 Friday night, snow falling, scarce taxis, 6:30 (or 9:45) reservation at Mintwood Place, the "hot, new" addition to a restaurant row in Adams-Morgan (the Redline) on Columbia Road NW. Goat cheese and beet mountain pie and burrata-kale-hazelnut-apple-tamarind salad to start, whole boneless dorade with braised fennel and picholine olive, cast-iron Amish chicken, and pecan pie to ease our way back into the cold outdoors and our stroll through the flurries back to the hotel.
Our last night in town, Saturday, we return to a restaurant of, not blessed, but fond memory from a trip to D.C. a decade ago: Johnny's Half Shell, since moved from DuPont Circle to Capitol Street NW, a short walk from Washington Union Station and its affiliated subway stop (the Redline, once again). "Superb sea food mixed with Supreme Court Gossip" according to Zagats. Can't say much about Scalia, but try the Maryland crab cakes, the steamed mussels and clams in a spicy spinach broth, the Scottish salmon, and the chocolate angel food cake with caramel sauce, and stay for the Jazz over a second cup of coffee or a cognac.
So, if you happen to be in town, lobbying up on Capitol Hill or visiting your cousin's offspring in government service, weather permitting, hop on the Redline. You will find an inviting restaurant, at nearly every stop, or at least three, as far as I can tell.
Alan Sandler is a transplanted Philadelphian - Married with children (2) and grandchildren (4) - Child Psychiatrist - Clinical Assistant Professor UCLA - sometimes wishes his mother would have wanted to say: "Here's my son the writer and photographer," but thanks her for the "My son the Doctor" that has enabled his life, his travels, and many wonderful dinners.