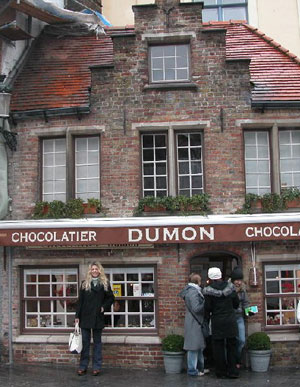 The temptation of chocolate draws Chocoholics and chocolate connoisseurs to Brugge, Belgium in droves. Decadent, rich chocolate shops are beyond prevalent in this well-preserved Gothic city (there are over 40). A turn at every cobblestone corner will be yet another chocolate shop discovery. Belgium is second to none in the chocolate department. If you think Swiss chocolate is supreme, then try Belgian, and your mind will be forever changed. Here are just a few suggestions to indulge your chocolate cravings.
Dumon is a well-known family owned shop. Stefaan Dumon creates exquisite chocolates daily using fresh ingredients sans additives and preservatives. (The shelf life is six weeks.) The staff will go into great detail describing their award winning, decadent, exploding-with-flavor, creamy chocolates. It's customary to find a small crowd gathered around the chocolate display case.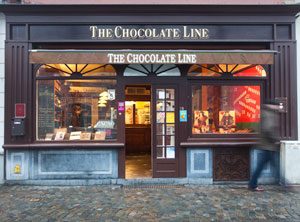 To indulge in one-of-a-kind concoctions, head over to The Chocolate Line near Market Square. Eighty unique varieties, such as a Buddha-shaped ginger chocolate and a white elephant saffron curry will tempt your taste buds.
If you're looking for marzipan with an assortment of liquor-filled chocolates, Verheecke offers a large selection. Sample individual chocolates and purchase a box of your favorites to bring home.
For delicious tea-flavored pralines, go to the Chocolate Corner. And for the true chocolate connoisseur, you will appreciate De-Proeverie Tea Room located in the Sukerbuyc shop. Enjoy hot chocolate along with a sampling of chocolates in front of a toasty fireplace. For those of you who can't make it to Belgium, order handmade chocolates directly from Sukerbuyc's choc-online website.
Finally, a trip to the Choco-Story (chocolate museum) will complete your trip to Brugge with a chocolate demonstration and chocolate tasting.
Tips:
Brugge is meant for exploring on foot. To take a break from a walking workout, climb into a buggy in Market Square and let the horse power take you along the cobblestone streets with a multi-lingual driver; it's pure fun.
For romantics, plan a trip to Brugge during the holidays, bring an umbrella, and an extra warm coat.
Getting there:
Fly into Brussels or Amsterdam.
From Brussels (Bruxelles Nord): Take the approximately one-hour train journey to Brugge. (Trains are frequent, on the 1/2 hour or hour) At the Brugge train station, take a taxi for the 5-minute ride into Brugge/Bruges.
From Amsterdam: The train journey is approximately 3 hours. Take the train to Antwerp, and change trains to Brugge.
From Paris: Take the EuroStar to Brussels.
Where to Stay: Hotel Heritage, a Relais & Chateaux member.
Follow Susan Fogwell on Twitter: www.twitter.com/CupofTravel
- From The Huffington Post