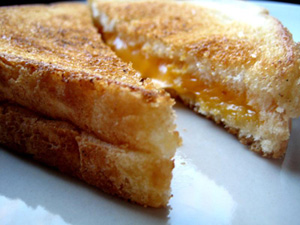 I don't know if it's the famous economy, or I'm just going through an I can't stand take-out anymore, but I've started to cook again. Not just grill a burger, which turns out pretty good when done on a stove top grill pan. I've actually been making vats of chile, or chicken and vegetables in marinara sauce, and freezing perfect portions in those great plastic containers everyone else in the world discovered before I did It's been a bone-chilling winter in New York this year, and coming home to something yummy that I can pop into the microwave, then actually eat straight from the container, has been life-changing. So that's what the room with all the white stuff that I used to go into all the time, is for.
I'm telling all of this to you for a reason. Sometimes, I want that comforting supper, and the freezer is bare. This requires imagination. And boy was I lucky last night. I had a sizeable hunk of Velveeta in the fridge. I had bread and butter. And I had fresh pineapple. Am I the last person on earth to discover how completely wonderful a grilled cheese sandwich, made with Velveeta, and slices of fresh pineapple, can be.
I'll probably try it with Kraft slices, or even some fancier cheese, but only when I'm out of Velveeta. You can be sure I'll always have the pineapple at hand.