What does traditional Southern cooking, and traditional Jewish cooking have in common. One word. BEIGE!

I was in the Great Smokey Mountains over the weekend, visiting the part of my family who settled there many years ago. My sister-in-law is a world-class cook, so I knew I was in for some yummy home cooking. I rarely taste home cooking any more. It's just me at home. And I've taken to referring to my kitchen as that room with all the white stuff that I used to be in all the time.



Still, because I'm basically an eat-out, take-out kind of girl, I did manage to stop into a local Huddle House for one meal over the weekend.

"What'll ya all have, hon?" asked Bertie, as she handed me a menu. All of the choices, breakfast, lunch or dinner, were pictured as well as described. And there they all were various shades of beige.

Biscuits. Grits and gravy. Chicken-fried steak. Sausage. Bacon biscuit. Brown beef stew. Deep fried catfish. Hash browns. Beer battered onion rings. Corn bread. Hoe cakes. Pulled pork. Home fries. Fried chicken. Fried this and fried that.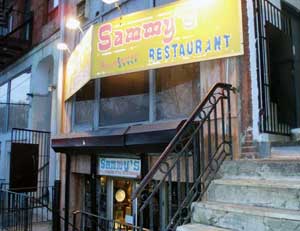 Hmm. Where had I seen this palate before. Oh, I remember. Sammy's. On the lower east side of Manhattan.. Mashed potatoes and chicken fat. Kreplach. Knadl. Matzoh brie. Matzoh balls. Kasha varnishkes. Chopped liver. Brisket and gravy. Potatoe latkes. Boiled beef. Pastrami.

I ordered grits, gravy, a bacon biscuit and pulled pork. Bertie approved. It was heavenly. I realized I hadn't pushed away from a table with a need to undo the top button of my jeans for a long time. Not since I was last at Sammy's.
Diane Sokolow is a film and television producer. She resides in New York.