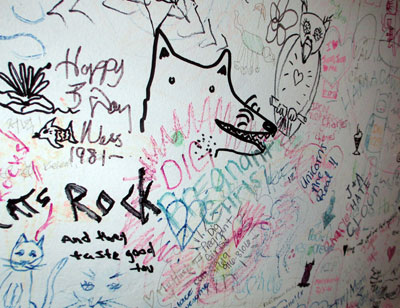 You'll never find this place on your own; you have to know someone. The Thin Man and I are just that lucky. Michele lives close by and does a fast focus so we can shoot and eat while everything's still hot. DaoFu is in Normal Heights and the fusion menu shares Thai, China, India, Vietnam and Japan. Michele says, "There's nothing normal about Normal." I don't see anything weird other than a guy on the street with his dog, who's still in the same spot when we emerge later. The dog is clearly unhappy.
To check it out, you have to be a detective. That's because in December they were told to stop using the name Tao and so they became DaoFu. Back story: Vegas dudes took issue with the name, according to our server. Why is Tao Asian nightclub in the Venetian Hotel agonizing over a place 326 miles away? Vegas Tao seats 3,000; Tweets to 75,000; lists 139,000 Facebook friends, hosts an annoying website and features scantily clad women. DaoFu, nee Tao, has no website, no Twitter presence, it closes at 9, and seats 50 fully dressed crunchies in a storefront. Same thing.
DaoFu is a place you want in your neighborhood, but not if you live in Nevada. It's chic with flowers, dessert, beer, wine and smart servers. It's also funky and the funk part is writing on the walls. Every inch is covered in graffiti. The owner says to himself, what else? "Okay, hungry people, go draw on the walls." The dominant theme is animal motifs. Of course.
Everyone gets tofu salad with raspberry vinaigrette. The tofu's homemade and yes, you can tell the difference. Then we order an appetizer of rice noodle rolls. The roll is huge. It's big enough for the small eater's meal especially when you're having Sapporo. It's okay, we take it to go and the next day straight from the fridge, everything's still crunchy.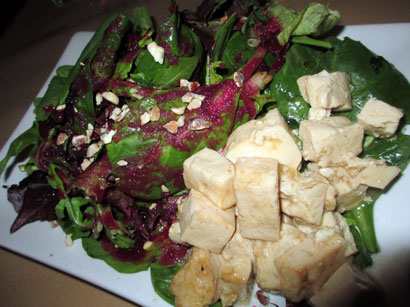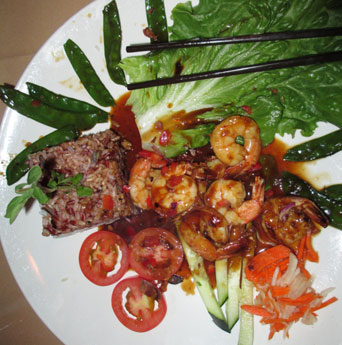 Some like it hot. If you do, DaoFu is your new favorite place. On a scale of one to ten, you specify how fiery you want your dish. We guess The Thin Man will order mango chicken, which he does. He opts for minus five heat and the meal is not the least boring, but it is sweet. I have chicken vermicelli with a heat preference of zero after hearing what the server has to say. It's not boring either. Michele knows the routine and gets shrimp lemongrass with #2 heat. For me, one shrimp is fine, the next would've called for a hose. Why do owners want to take out their eaters with heat? Are there chili badges of courage? Why, restaurant people?
Be ready: your dinner plate is going to be gigantic. They're so big it takes some doing to get them all on the table. The Thin Man looks at me: "In my whole life I've never seen a plate that big in front of you." He's right. If I had those plates in my kitchen, I'd have to move. Or put on an addition. And buy bigger pants. Painstaking arranging makes every plate a picture and you'll want to eat everything. Like salad, dessert is complimentary. We choose green tea ice cream with three spoons. As we're leaving, the line for Saturday night seating is out the door.
DaoFu
3332 Adams Avenue
San Diego, CA 92116
619. 281. 6888
Kitty Kaufman is a Boston writer at http://www.corp-edge.com.
photos by Michele Gross