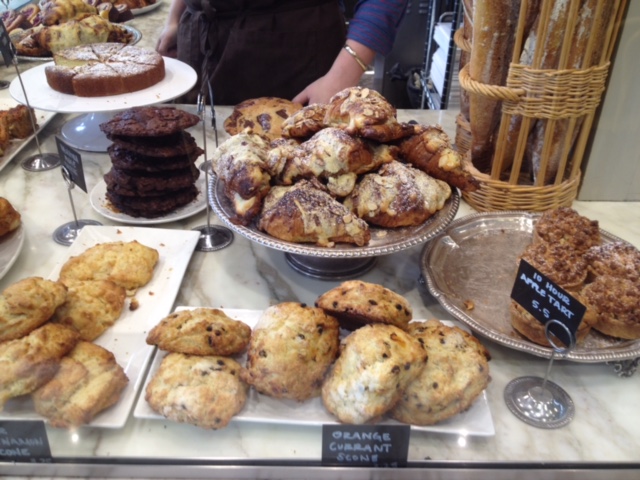 I have recently made the greatest discovery of my life, gastronomically speaking. On a recent trip to San Francisco I was taken to b. Patisserie. Shouting OMG into the next century would not do this "salon de thé" justice'. Opened in 2013 by co-creators, co-owners and total pastry geniuses, Belinda Leong and Michel Suas, b. Patisserie could very well have pastry chefs from all over the world setting out on pilgrimages to San Francisco. There is a line from the Eagles song, In the Long Run, "all the debutantes in Houston, couldn't hold a candle to you."
Sitting in a windowed corner of b.'s, savoring the croissant, the butter, sugar, crisp crusty outer layer melting in my mouth, the tune played in my head with the words changed to "All the pastry chefs in Paris, couldn't hold a candle to b!"
b. comes from the name of San Francisco native Belinda Leong who began her career in pastry making back in 1999 working in the renowned San Fran restaurant, Gary Danko. After eight years there, learning much from Gary Danko who she cites as one of her major culinary influences, Belinda left for Europe, working in top patisseries and restaurants in Paris, Spain and Copenhagen, refining her skills and adding to her repertoire. After two years she came back to the Bay area as the pastry chef of Manresa the two Michelin starred restaurant in Los Gatos.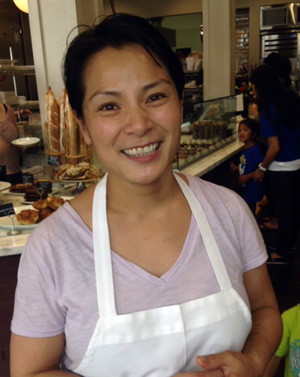 In 2005 Belinda's constant drive to improve her baking skills, led her to a class at the San Francisco Baking Institute started by pastry whiz Michel Suas in 1996. Michel, a child protégé of the pastry world began baking in his homeland, France, at the tender age 14, and by 21 was the head pastry chef of Restaurant Barrier in Paris, a three starred Michelin restaurant. The two met and kept in touch over the years. In 2011 when the idea of opening her own patisserie was still in the dreaming stage, Belinda called Michel for advice. The two began talking, talking led to sharing and sharing led to brainstorming. And voila b. Patisserie was born.
The real meant-to-be-moment came when Belinda (an amateur sketch artist) took out a drawing she had done of a floor plan for her ideal patisserie several years before their partnering hit any one's collective unconsciousness. When Michel shared with her the one he had drawn, they realized that the drawings were almost an exact match. In awe and total shock they both conceded that theirs was indeed a marriage made in sugar heaven.
Walking in the door, b.'s has you at first whiff. The glass display case in the front beckons one to run, not walk over for a closer inspection. A neat pile of reddish brown croissants, butter-browned to perfection sits proudly next to seasonal scones and coffee cakes, Your eyes, though, go to a large plate of pastries, octagonal in shape, about the size of an adult palm, their crisp outer layers demand attention. Called "Kouign Amann", they are b.'s pride and joy signature pastry. Originating in Breton, (Kouign means cake, and Amann means butter), they are small mounds of pastry flour filled with butter and sugar that melt together into a party for one's mouth. Belinda learned to make this delicacy in Brittany, bringing it back to be the star of the show she knew she'd one day stage.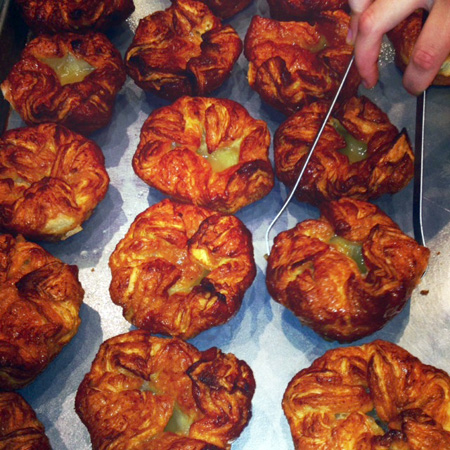 A menu also offers Kouign Amann Seasonal. Having tried them both, (the seasonal was apple/fig that day) I can attest that both put the "d" in divine. The menu is a splendid offering of pastries, cakes, tarts (Yuzu custard lemon, if you are a lemon tart lover…to live for!) and several tartines. There's also seasonal "verrines", which are traditional French pudding-like delicacies served in small glasses. The Chocolate Coffee Toffee is beyond the beyond for any and all chocolate, coffee or toffee lovers!
If I knew ahead of time and could choose a last meal, though, it would be the Kouign Amann Seasonal (no matter what the fruit) followed by the Tomato and Burrata Tartine (one of several on the menu) which is the most gorgeous open faced sandwich I've ever seen! I'd stuff myself silly, then top it off with a Chocolate Coffee Toffee Verrine then happily wave Ba bye!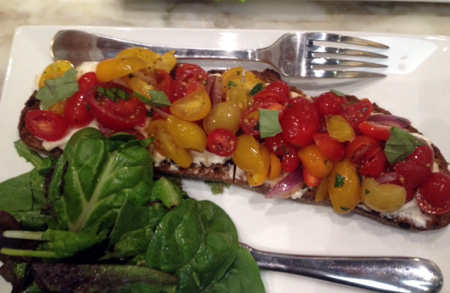 Both Belinda Leong and Michel Suas have about them that most attractive quality of true artists who let their passion for their work speak for them. Hard working and humble, they both clock in six long days a week infusing everything they bake with love, greeting customers with smiles, happy to see their wares so thoroughly appreciated. And appreciated they are and not just on their home turf.
Belinda Leong is the 2013 recipient of the James Beard Pastry Chef Award. These two pastry mavens may have changed my life, or at least my address. Living in Southern California for decades, the thought of moving up north to San Francisco had never occurred to me, before walking into b.!
b. patisserie: 2821 California Street, San Francisco, CA 94115 / 415-440-1700
LA based Writer, Annie Stein, has written for C and More Magazines, NYTimes and is a regular blogger on Huffington Post. She runs creative writing workshops for at risk teens.