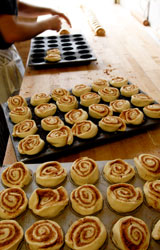 The trouble with San Francisco is that there are way too many fabulous places to eat. Regardless of how much over-eating a person chooses to do, enjoying more than 3 meals a day may be the digestive limit. Just two days in which to eat in the city by the bay upped the ante for my family. Our weekend in San Francisco was to visit with our adult children. What a difference from those early years when only a small selection of beige foods would cross the little lips of our youngest. Now he's 6'5", so that early limited palate clearly didn't stunt the kid's growth. He and I plotted for months about where to eat, and at first we thought we'd go to one of the recent James Beard award winners, but all were booked four months in advance. How frustrating. But the depth of eating possibilities in the city and beyond left no time for sulking. Rock, paper, scissors, and plans were made.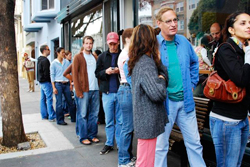 On this perfect Saturday, we started the day at Tartine, the fabled bakery. A long line of hungry eaters surrounds Tartine every morning and evening, so we planned our arrival at the opening bell. Long lines in that neighborhood are pretty common because there's such an abundance of good eating in so many places. If you are in the Castro/Mission area of San Francisco, just cruise the streets and jump into a line spinning out of one or another of the local food joints, and you'll be well-fed. And you can't go wrong just heading to Tartine. It is not the most comfortable place to eat because of the tight quarters inside. There are tables on the sidewalk, and in good weather, that is a reasonable place to eat. But in or out, Tartine is not a place known for its ambiance. The job they do with baked goods is another story. Their croissants and bread pudding and morning rolls can throw you into a rhapsody. This is as good as a bakery gets. There are no wrong choices, just a strong wish to have one of everything. Tartine deserves its own love song.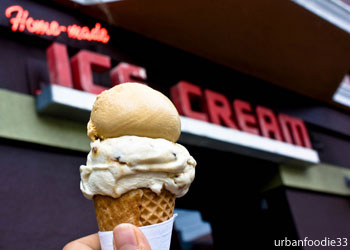 Right across the street is Bi-Rite Ice Cream, and if you go on a sunny day, there is likely a line there too. The daily menu posted on that perfect Saturday featured either vanilla soft-serve topped with a drizzle of blood orange olive oil and sea salt or chocolate ice cream sprinkled with spiced pecans and a ribbon of hot fudge. Daily specials like these in an ice cream shop speak volumes about the quality inside. What a neighborhood. That street corner may have a pretty gritty appearance, but 18th and Guerrero offers superb eating.
A gentle trek in Muir Woods later in that same perfect Saturday was a way to walk off a little of the calories consumed at Tartine and Bi-Rite. On this particular day, photographers in a club devoted to using those old-fashioned box cameras were there, and they let us stick our heads underneath the black cloths which block out the surrounding light, and we got to look in the viewers of their cameras. Between the beauty of the woods and the light captured by those cameras, the shots were breathtaking.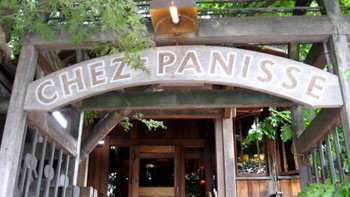 From Muir Woods, we headed to Berkeley for a stroll and dinner at Chez Panisse. The meal was glorious. Sunshine was still streaming into the lovely dining room, and we drank the offered Prosecco hoping our expectations weren't too high.
The first course was seared sea scallops with green beans, fennel, curly endive and Meyer lemon. "Best scallops I ever ate," was uttered nearly in unison around our table. A reasonably light risotto with porcini mushrooms and Parmesan cheese all dusted with truffles came next. No uttering, only sighing, on that course. Then a grilled veal loin with sage, pancetta, spinach, peas and carrots followed. Dessert was a delightful fruit crostata with ricotta ice cream. Our high expectations were amply met.
We'd now consumed about a billion calories, but we were all happy with ourselves and each other and happy with what we'd eaten. The food splendors of the Bay Area – "bravo" and encore please.
Tartine Bakery, 600 Guerrero Street, San Francisco, CA 94110 – 415 487 2600.
Bi-Rite Creamery, 3692 18th St., San Francisco, CA 94110 – (415) 626-5600
Chez Panisse, 1517 Shattuck Avenue, Berkeley, CA 94709-1598 – (510) 548-5525
Rachel Parker is a middle school teacher and home cook.