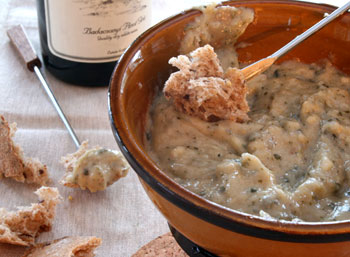 There was a time when gathering people around a fondue pot to cook their own food was very popular. It was the 1970's I think – about the same time I got married. My husband and I recieved three of these "communal" pots as wedding gifts. I think I remember using one or two of them one or two times soon after the wedding. And then they sat. For years.
My experience with fondue was very limited. I remember going to a Minneapolis restaurant with my parents on special occasions where they would serve a a bowl of cheese fondue warming over the flame of a tiny tea candle. Each table of diners would recieve this bowl of melted deliciousness along with a basket of crunchy, house-made garlic croutons. As a young girl, the process of poking one of those toasted chunks with a long, slender fork and dunking it into the warm cheese before popping it into my mouth, felt quite elegant.
And, I do remember a couple of times when my parents had friends over for a "fondue party." It was a long, drawn-out affair, with the meal lasting for hours as each person skewered a piece of meat with a fondue fork and placed it into a fondue pot full of hot, bubbling oil to cook. It's definitely not fast-food. And it's not a meal in 30 minutes or less. It's slow food.
Five or six years ago we took a couple of the pots out of their boxes, gathered up the long fondue forks that were dispersed throughout kitchen drawers and a dining room hutch, and purchased some sterno to burn under the fondue pots. We had decided to do a family fondue night. A platter of thin strips of chicken, beef and fresh shrimp was centered between two pots of hot peanut oil. It wasn't too far into the whole experience of cooking meat in the communal pots, when my husband decided he'd had enough. It was taking just way too long to cook the meat. And he discovered that when he put several forks of meat into the pot at one time, the temperature of the oil went down, so it took longer to cook. He went to the kitchen cupboard and pulled out the big electric wok. He heated it up and pitched all the meat into the big hot pot, stir fried it, and that was that. So much for casual, unhurried dining, slow-food style, at our house.
We still enjoy an occasional bowl of cheese or chocolate fondue, though. Here, in the land of cold, snowy winters, a warm bowl of melted cheese and big chunks of chewy, crusty bread is comfort food. Returning home chilled and hungry after some snowshoeing the other day, I stirred up some cheese fondue using Brie cheese and basil pesto that I'd purchased at the grocery store. It didn't take long to make -- less than 30 minutes. It didn't take long to eat -- the chicken and bread were already cooked, and it didn't take long to feel satisfied. Oh, my husband was happy.
It wasn't quite the Swiss cheese fondue that I remember having in a restaurant as a child, but it sure was good. No wok required.
Brie and Pesto Fondue
1 cup dry white wine
1 chubby clove of garlic, minced
1 large shallot, chopped fine
1½ teaspoons champagne vinegar or white wine vinegar
8 ounces Brie cheese, rind removed and cut into small cubes
1½ teaspoons cornstarch
1/4 cup basil pesto
Freshly ground black pepper to taste
Chunks of crusty bread and cooked chicken
In a small, heavy saucepan, heat white wine, garlic and shallot. Bring to a boil. Reduce heat and simmer, uncovered, for 5 minutes. Add vinegar.
Toss cubes of Brie cheese with cornstarch. Add to warm wine mixture, small amounts at a time, over low heat. Stir after each addition, until cheese is melted. When all cheese has been added and mixture is smooth, remove from heat. Stir in pesto and blend well. Season to taste with black pepper. Serve warm, from a small, heavy fondue pot, with chunks of crusty, chewy bread, cooked chicken or fresh vegetables.
*I like to buy the basil pesto found in the refrigerated case at the grocery store. It has a fresh flavor.
*I use my cheese plane to remove rind from Brie cheese. It works best when the Brie is chilled, right from the refrigerator.
Sue Doeden is a popular cooking instructor, food writer and integrative nutrition health coach. She is the host of Good Food, Good Life 365 on Lakeland Public Television. Her own hives full of hardworking bees and her love of honey led to the creation of her recently published cookbook, Homemade with Honey.