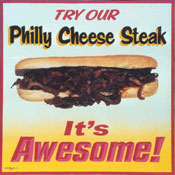 I am from Philadelphia, and when I meet someone who isn't from Philadelphia they always say "Oh! You are from Philadelphia. You must love cheese steaks," because this is the only thing people know about Philadelphia.

Cheese steaks are embedded into the national imagination as "Philly food," or "Philly phood" (mad men dreaming up ad campaigns for local Philadelphia business or sports teams love to replace "f" with "ph" whenever possible). Philadelphians bear this and other burdens patiently, but at a certain point, even the most sanguine lose their cool. How many times have I weathered cheese steak-related questions with the same bottled response, which is: the secret to a great cheese steak is the bread, and the secret to the bread is the water, and the water has to be Philadelphia water because otherwise it doesn't taste quite right.

But this is hardly the point. The thing that really matters is context. Where are you eating your cheese steak, and at what time of day, and under what circumstances, and how did you choose this cheese steak establishment over another? Who were you with and where were you going or coming from?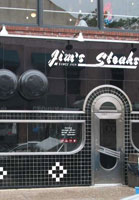 First we must acknowledge that a cheese steak ought to be consumed in the greater Philadelphia metropolitan area. If you're in the city (yes, New Yorkers, Philadelphia is a city too) then you're either on South Street or you're in South Philly.

If you're on South Street, a little mecca of punk rock where Rocky Horror plays on Saturdays at midnight, you're probably a pre-teen and you do not have permission to be on South Street at night but you've come anyway and the cheese steak you order at Jim's, which is a two-story cafeteria, is that much more thrillingly delicious because it is forbidden. The steaks here are considered very good, though not sublime – the scale of the operation prohibits this – but there's the added advantage of the open kitchen where you can see the dizzyingly fast assembly line in action. Bread meat onions cheese soda with that chips napkins and boom. Next!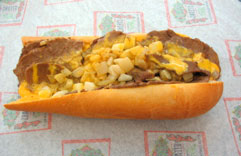 If you're in South Philly, you're at Pat's or Gino's. Pat's and Gino's are bitter rivals adjacent to one another, and regardless of where your loyalties lie, you have to know how to order. You don't say "please" or "hello" or "I would like a cheese steak" – you simply say "with" or "without" (onions) and you have to declare which cheese you want (provolone or "Whiz") and if you dawdle or get confused by the system, you get looks so withering you could die. These steaks are not great – in fact, they are at once so greasy as to be indigestible and also somehow dry enough to require ketchup – but again, that is not the point. The point is that it's a warm summer night and you're going to a baseball game, and you've stopped on the way to get cheese steaks to eat at the game and cheese fries to eat in the car, and what's better than that? Or you're a college student on winter break on your way home from a raucous night out with your high school friends and you're starting to realize that you might all be growing apart, but then someone decides to go to Pat's at 4am, and you all trundle down there and blow on your hands to stay warm, and suddenly the world doesn't seem so big and faceless anymore.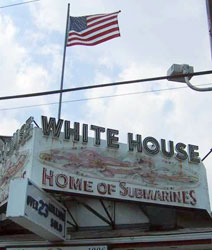 If you're in Atlantic City, you must make the pilgrimage to White House, a few blocks away from the strip of casinos. There will be a line out the door, and you must wait patiently and not complain. Once inside, you'll see framed, signed photos of all the luminaries who have been through Atlantic City and made the same wise decision to come here for the big, beefy cheese steaks served on perfect bread (hollowed out to make room for the steak contents) in booths upholstered in shiny red leather.
The lighting is unflatteringly bright and the greasy steaks are doing nothing nice to your arteries, but every once in a while – maybe two days after Thanksgiving, when you cannot look at another piece of leftover turkey, or maybe on the Sunday night of Labor Day weekend, when you're starting to realize that summer is almost heartbreakingly over – a cheese steak from White House is just what the doctor ordered.

But if you are not in Philadelphia, then you are simply eating steak and cheese and onions on a hoagie roll. To be a real cheese steak, you should be in Philly with your phriends having a phabulous trip down memory lane.


Jim's Steaks
400 South Street
Philadelphia, PA 19147
215 928 1911



Pat's King of Steaks
1237 East Passyunk Avenue
Philadelphia, PA 19147
215 468 1546



White House Sub Shop
2301 Arctic Avenue
Atlantic City, NJ 08401
609 345 1564

Emily Fox writes both feature films and television when she is not whipping up the same three recipes over and over again (chili, coq au vin, and Tollhouse chocolate chip cookies). She lives in Los Angeles with her husband and baby girl.