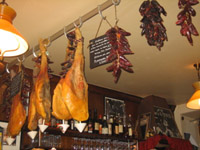 While things change so fast in this world, there are still places where time stands still. The face of Paris changes faster every year that I visit and not always for the better. There are more and more fast food chains, pasta restaurants, pizza sellers and Asian takeaway because everyone wants to eat quickly and run somewhere...
At L'Ami Jean time has stopped, it is old fashioned, handcrafted French/Basque cuisine. The restaurant has an aged yellowed patina with acorn fed Spanish hams hanging from the rafter with an inviting glow that welcomes you. The menu changes daily and the ingredients could not be better sourced or fresher! Whatever they make is always breathtaking!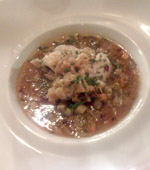 Stephane Jego the chef/owner holds court from his extremely busy kitchen filled with six assistants that move around at blurring speed. One of the starters the night we were there, last week, included the freshest poached mackerel topped with a dollop of brandade served in the center of a curry rosemary vegetable laden broth. Curry and rosemary an unlikely combination that really worked!
I had a roasted duck breast cut into two large pieces that was flavorful and rare, served with roasted Jerusalem artichokes, parsnips and house made sun-dried tomatoes with a glistening red wine pan sauce drizzled gracefully over the top. All the components worked as one, it was pure magic.
Stephane's eyes always follow his plates to our table as he waits for a wink and a smile of delight. We look forward to our annual visits the last three years and all the great food that awaits us.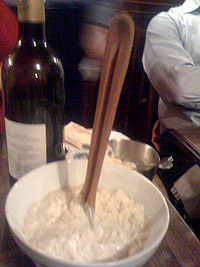 The hardest part about eating here is having enough room to have their famous rice pudding otherwise known as Riz au Lait. It always arrives on a long rectangular wooden board or plancha, the pudding is in a vintage handleless cafe au lait bowl with an antique well worn wooden serving spoon standing almost upright in the very thick billowing mix for you to serve yourself. The color is a pearly white with the Spanish Bomba rice grains suspended in the thickest Normandy cream with specks of the freshest Madagascar vanilla. On the side, is a small cup of milk jam and in our dessert bowls there are chopped praline pieces and gently toasted pistachios waiting ready to receive the pudding.
Everyone has a technique, a small amount of pudding, a dollop of milk jam and more pudding on top is my technique. However you chose to do it , it will be something you dream about for the rest of your eating years. Stephane cooks from the heart with his Grandmother watching from heaven! May it always be there.... Stephane you are my hero!
C hez L'Ami Jean, 27 Rue Malar, Seventh Arr., Paris, 33-1/47-05-86-89

Riz au Lait
4 ¼ cups whole milk
3/4 cup sugar
1/2 cup bomba or aborio rice
1 vanilla bean, scrape the seeds out of pod
1 ½ tsp. good quality vanilla extract
4 ¼ cup heavy cream, not ultra pasterizided

In a large size pot bring milk and vanilla pod to a boil, add rice and stir well. Reduce the heat to a simmer and cover the pot with a lid. Cook the milk-rice mixture for 30 to 40 minutes till the rice is soft and to your liking. Add sugar, vanilla seeds and vanilla extract,

Stir well and cook 10 more minutes till sugar dissolves. Let cool, put a piece of plastic or parchment paper on the surface and refrigerate overnight. When ready to serve whip all the heavy cream till it forms soft peaks than fold the cream gently into the rice pudding base and serve.

The better the quality of cream the better the Riz au Lait.


Brenda Athanus runs a small gourmet food shop in Belgrade Lakes, Maine with her sister Tanya called the Green Spot.
The Green Spot
This email address is being protected from spambots. You need JavaScript enabled to view it.
207.465.2921