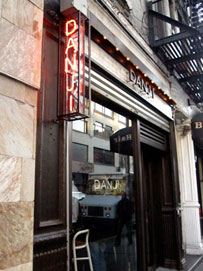 I had an experience the other night that was right out of Larry David's universe or Seinfeld's. A classic. I'll try to describe it for you.
It was around 9:45 and I was at Danji, the wonderful Korean fusion restaurant on West 52nd Street, waiting for Jill after her show. Our friends Florence and Richard Fabricant were seeing the show that night and we were all going to have dinner. I know that mentioning Florence Fabricant is name- dropping – I apologize — but her position as a famous food writer for the NY Times is part of the story.
So, I'm sitting at the bar, sipping a nice white with a Japanese name from Alsace. Yeah, a Japanese wine from Alsace – or an Alsatian wine with a Japanese owner – whatever – it's very good.
I get the manager's eye and he comes over.
"I'm with the Fabricant party. I'm the first to arrive," I say.
He looks into his book, shakes his head and says, "You know, we don't normally take reservations."
Okay, I thought. When Florence gets here she'll straighten it out. Danji had been her suggestion; she had written something about it in the Times and she told us that it has fabulous food. Which it does, by the way. Florence knows of whence she speaks.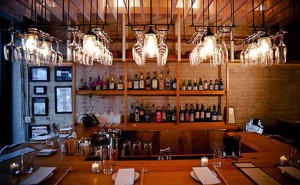 Just then a group of Asian girls arrive and wave to the manager. He said, "Ah, yes, the reservation for … whatever the name was – right this way." And they all go to their reserved table.
So I'm sitting there like Larry David. The guy just told me – to my face – that they don't take reservations, and a minute later – less than a minute – he's seating these girls, honoring their reservation. I downed my wine and ordered another.
Finally the happy warriors arrive. The Fabricants loved the play and Jill was all lit up. The manager greets Florence and tells her the table will be ready in a moment. I decide to say nothing. And we proceed to have a lovely evening, tasting almost everything Danji has to offer. Small plates are the order of the day, so we tried everything. Again, the food is fantastic.
But I keep noticing that the manager is looking my way, like he knows that he stiffed me earlier and now I'm sitting with the NY Times. There's a little line of concern on his forehead.
Cut to the end of dinner. We pay the check and I head to the rest room – my mother always told me — don't pass up an opportunity; you never know. Jill and the Fabricants are waiting in the front near the bar and when I get there, Jill points to a beautiful plate of fried calamari that's sitting on the bar. I nod as if to say, "Yeah, nice calamari." And she points again – insistently. So I pick up a piece of the squid with my fingers, swirl it around in the wasabi mayo that's next to the plate and pop it in my mouth. Delicious, by the way. Then I become aware that everybody's staring at me like I had just farted or something.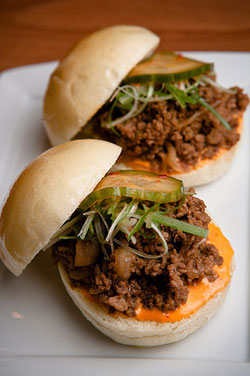 "What?" I say this with great innocence.
"You just ate his dinner, honey," says Jill and points to the manager, who has a look on his face like I just ate his dinner. I'm waiting for the theme song to play.
Okay – to set the record straight: Danji takes reservations for parties of six or more. If I had been sober I would have realized that.
The manager's name is Andrew and he and I have become friends. He's been telling this story all over town, as well. We've been back to Danji three times already.
Highlights: The green pea and edamame soup; the tofu with ginger scallion dressing is one of the best things I've put into my mouth in a long time – and I'm not usually much of a tofu eater; the spicy thai chicken wings; the spicy whelk salad with buckwheat noodles; the pork belly sliders; and, of course, Andrew's delectable calamari.
DANJI: 346 West 52nd Street (bet 8th & 9th Ave), New York, New York 10019
Michael Tucker is an actor and author whose recent novel is "After Annie
." He writes about his love of food on his blog Notes from a Culinary Wasteland.