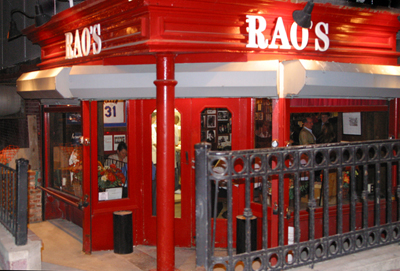 We all know the few things in our lives that give us status above and beyond our own reality.
Our dog, Buzz (an apricot poodle that bears an uncanny resemblance to Rod Stewart), always attracts attention, is far more famous than we are – and prettier! Telling people I am a union member (OK, it's SAG) has always given me a certain social gravitas among my political friends. Doing a book on Richard Wagner has made me a "distinguished visitor" at the American Academy in Berlin… not a way in which I am normally described. I have a relative – John Singleton Mosby – that brings Southerners to their knees in a show of respect when his name is mentioned, but white smoke rises when people find out Bill and I have a Monday night table at Rao's – the impossible dream. Or, as they might say when you call for a reservation, FUGGEDABOUDIT!
Monday night at Rao's isn't your average Monday night somewhere else. Rao's, in Spanish Harlem and in the same family since 1896, with only ten tables and one seating is 'famiglia', and as such is closed over the weekend. Monday night is its weekly re-birth and the crowd is always gleeful, festive and full of song. (Yes they sing at Rao's … but that is another story) Monday night regulars, besides the characters that look like the cast from Goodfellas – and sometimes are, have included Sonny Grasso (the real cop from the French Connection) sportswriter, Dick Schaap (when Dick passed away Billy Crystal asked in his eulogy who would inherit the table), Ron Perlman, Woody Allen, and Judge Eddie Torres (who wrote Carlito's Way and Q and A). Also seen Monday nights, Sophia Loren, Senator Alphonse D'Amato, Mike Wallace, Sharon Stone, Martin Scorsese, Don Rickles, Pierce Brosnan – the list is endless.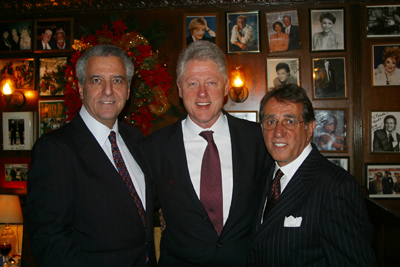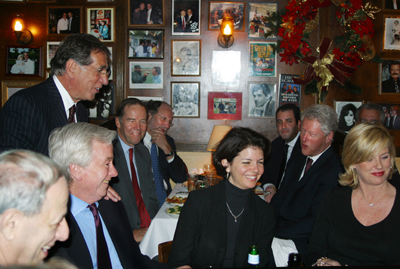 President Clinton who knew we were "regulars" once called us to help him get a table for that night. Usually a last minute phone call should work for a former President of the United States, but Frank Pelligrino, aka "Frankie No", told us, "No, can't… too crowded." (The President gave us more notice the next time.) District Attorney Robert Morgenthau was our guest once, and the waves parted. There was a line of colorful 'fellas' that came to the table to pay their respects. One, named Gigi, said, "It is a pleasure having you uptown; I only hope I never see you downtown … again."
My darling husband, Bill, said it was months before he kissed a female. The routine: you walk in and you kiss everyone you know including Frankie, cousin Ron Straci, the bartender Nicky "Vest", Joey, the guests, the chef and the waiters. (If you are a true regular, first you hug and kiss Tommy, and then you sympathize with the Yankee's hating – Met's loving waiter.)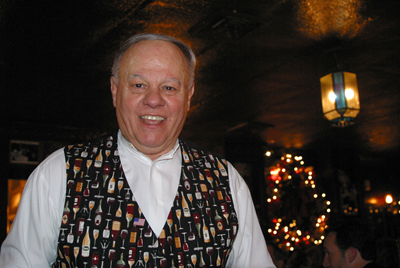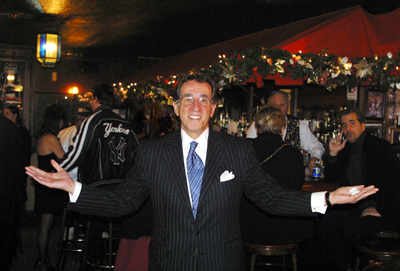 Rao's is Neapolitan/Sicilian in taste, and it is cash only. There are no menus, no price lists, only one knife, fork and spoon offered, and no individual orders as it is served 'family style'. Joey comes around pulls up a loose chair and offers suggestions. In the old days, when Frankie jr. took our order, he always suggested the Seafood Salad as if choosing NOT to have Seafood Salad would be detrimental to your ongoing good health. Joey is cool; however, I would still order it if I were you – along with the delicious Roasted Red Peppers with raisins and pine nuts, Mozzarella in Carozza, Baked Clams Oreganate, Pasta with Clams "your choice – pink or white", Pasta with Sausage and Brocolli Rabe or Cabbage, Meatballs the size of baseballs, their famous Lemon Chicken, Steak Pizziola with Arrabbiata Sauce, Shrimp Scampi, a humongous but perfectly made Veal Chop, Veal Milanese, or the totally unexpected and quite delicious Fried Chicken…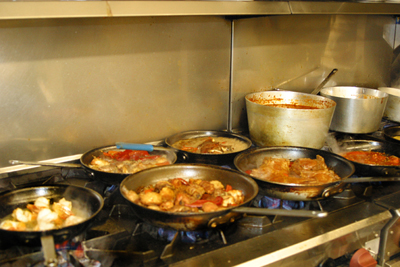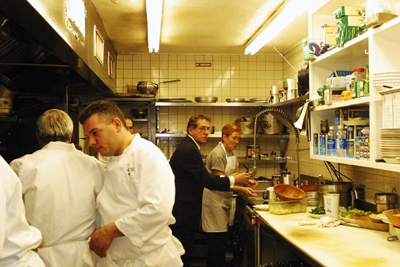 Making it to the main course is impossible, so order - not oneforthetable but oneforthefridge!
Rao's Seafood Salad
(Make this … or else!)
**scroll to the bottom of this recipe for an alternate version
1 lb. Fresh small Squid (Calamari), with tentacles, cleaned
1 cup jumbo lump crab meat
8 large shrimp
1 lb. cooked fresh lobster meat
2 cups fresh lemon juice
4 tablespoons of salt
Rao's Extra Virgin Olive Oil
2 garlic cloves, peeled and halved
1 teaspoon chopped Italian parsley
6 lemon wedges
Salt and Pepper to taste
Separate squid bodies and tentacles, as they must be cooked in different water to keep the tentacles from coloring the rings. Place 1 quart cold water in a saucepan. Add squid bodies, 1/4 cup fresh lemon juice and 2 tablespoons salt. Place 1 quart cold water in a saucepan. Add squid tentacles, 3/4-cup fresh lemon juice and 2 tablespoons of salt. Bring both pots to a boil. Lower heat and cook until squid are very tender, about 5 minutes.
Remove from heat and refresh in cold water. Drain the bodies, pat dry and cut into rings.
Under running water, gently rub, pushing the black specks and colored skin from the tentacles. Drain well and pat dry. Combine the rings and tentacles in a colander and drain. Refrigerate if not using immediately.
Peel, devein, and cover shrimp with water and bring to a boil in a small saucepan. Immediately remove from the heat, and refresh in cold, water. Cut into quarters.
Whisk together the oil, remaining lemon juice, garlic, parsley, salt and pepper to taste.
Add shrimp and squid to the oil mixture. Toss to coat. Add crabmeat and lobster and turn gently to coat. Remove and discard garlic cloves. Refrigerate until serving. Garnish with lemon wedges.
**FOR A QUICK AND EASY ALTERNATIVE:
Cook seafood as instructed and add Rao's Seafood Salad Marinade and Dressing
Penne with Cabbage, Sausage and Marinara Sauce
(The first meal I had at Rao's included this delicious pasta dish. I ordered it, as I had never heard of pasta with cabbage. I was not disappointed.)
1 lb. Rao's Penne Pasta
1 jar ofRao's Homemade Marinara Sauce
1/4 cup of Rao's Extra Virgin Olive Oil
4 cloves garlic, peeled and mashed
1 pound Italian sausage, cut into bite-sized pieces
1 pound savoy cabbage, cooked and chopped into bite-sized pieces
Salt and Pepper to taste
Freshly grated Pecorino Romano cheese (optional)
Heat Rao's Extra Virgin Olive Oil and garlic in a large sauté pan over medium heat. Add sausage, and sauté until meat is cooked.
Add cabbage, salt and pepper to taste, and sauté for an additional 1-2 minutes. Stir in 3 cups of Rao's Marinara Sauce, and cook for 3-5 minutes, until flavors have blended.
Meanwhile, cook Rao's Penne pasta in a large pot of rapidly boiling salted water until al dente. Drain pasta and return to the pot with ½ cup of sauce. Stir for one minute over high heat. Place on a serving platter and pour remaining sauce on top. Sprinkle with Pecorino Romano cheese, if desired.
Rao's Meatballs
(We always order the meatballs.)
1 pound ground lean beef
½ pound ground veal
½ pound ground pork
2 large eggs
1 cup freshly grated Pecorino Romano cheese
1½ tablespoons chopped Italian parsley
½ small garlic clove, peeled and minced
2 cups bread crumbs
2 cups lukewarm water
Salt & pepper to taste
1 cup Rao's Extra Virgin Olive Oil
Combine beef, veal, and pork in a large bowl. Add eggs, cheese, parsley, garlic, and salt and pepper to taste. Using your hands, blend ingredients together.
Blend breadcrumbs into meat mixture. Slowly add water, 1 cup at a time, until the mixture is quite moist.
Shape the meat mixture into balls (2½ to 3 inch balls). (Think baseballs.)
Heat olive oil in a large sauté pan. When oil is very hot but not smoking, fry meatballs in batches. When bottom half of meatball is very brown and slightly crisp turn and cook top half. Remove from heat and drain on paper towels.
Lower cooked meatballs into simmering Marinara Sauce and cook for 15 minutes. Serve over pasta or on their own. Makes about 28 meatballs.
Nancy Ellison, award winning photojournalist and celebrity portraitist, has authored fourteen books of photographs, including "Romeo and Juliet: The Love Story in Dance" and "Starlet". Her newest book, "Wagner's Eternal Ring" will be published this September by Rizzoli.