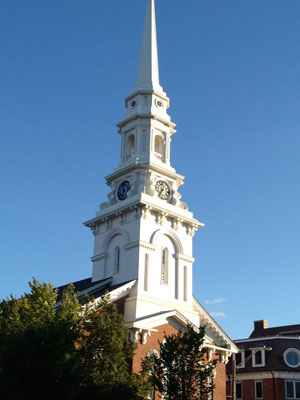 On our recent summer "vacation" to the East Coast, we had one day to ourselves. Blissfully alone, with only each other to have to worry about and please. Instead of the unending stream of family that we were happy to see, but the all-at-once, all-or-nothing nature of the company had left us a bit weary. There was only time for one dinner out. One dinner that didn't revolve around a porch and a grill and the constraints of many others picky palates. Don't get me wrong, I love grilling, but I was looking for something crafted with genius and care that required a fork.
Unfortunately it was a Monday night. All my top Boston choices were shuttered for the evening. And don't even get me started on how expensive the hotel prices are. For one night. Like New York pricey. So we choose to stay in Portsmouth, NH, a destination new to both of us and on the road between Bangor and Boston. Our hotel choice was a total cinch. The Ale House Inn. Sounded like it has something to do with beer. And it does. It's located in the historic Portsmouth Brewing Co. building, which dates back to 1880. That may be considered old in most cities in the country, but not in Portsmouth which the English "founded" in 1653. The 10 rooms are masterfully appointed (Keurig/iPad/flat screen/fridge), if a bit small, but since we were just sleeping there we didn't care. The free micro brew they give you at check-in was a lovely surprise and a nice touch on a hot summer day.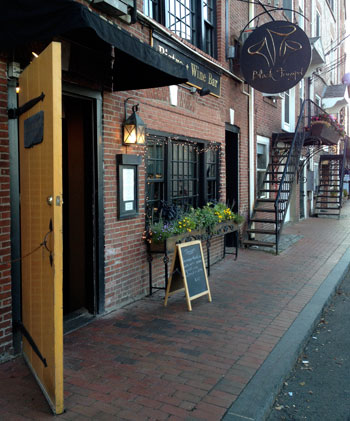 What's also great about the Inn is it's centrally located, so you can walk to just about every restaurant in town. Given the tiny, winding, one-way streets and lack of parking, this was a major plus. I wouldn't call Portsmouth a food mecca, but it has a wide selection of choices from simple pubs to fish joints to foodie havens. Being a stickler for a good wine list, my options were quickly narrowed down to the Black Trumpet Bistro and Cava Tapas and Wine Bar. With reviews and pricing about the same, I choose the former because their menu was broader and, frankly, because I could make a reservation online, a must for a super planner like me.
While Black Trumpet has only been around since 2008, the location has been a dining destination since 1970 (when it was the distinguished Blue Strawberry) and the building in use in one way or another since the early 19th century. Chef Evan Mallett, who was a 2011 James Beard semi-finalist for Best Chef-Northeast, had his cooking epiphany over a meal in the building's second restaurant iteration, Lindbergh's Crossing and eventually found his way back in 2003, when he became the head chef of that restaurant. In 2007, he and his wife Denise bought the business and renamed it after their favorite mushroom grown on their 10-acre farm in Maine.
When you enter the intimate, brick-walled dining room, you know you've walked into someplace special. The dining room reeks of history with its dark, wooden beams and unfinished back wall. It is quaint and classy without being stuffy. It was nice to be out of the car and in a place that felt so comfortable and inviting. We were warmly greeted and chatted with Denise, who was clearly proud of both her husband and the Black Trumpet.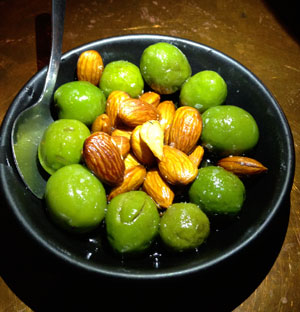 We dove right into the menu, deciding to start with a cocktail which are seasonal as well. I couldn't resist the Hibiscus Sangria and the Man ordered a twist on his usual Moscow Mule, this one made with muddled raspberries instead of lime. They both hit the spot and melted the driving/family stress away.
Then we ordered the olives and almonds. In this incarnation, they were our favorite - Castelvetrano - fried. Not breaded or deep fried. Just fried, in extra virgin olive oil. Simply amazing and incredible simple. Warm and soft they practically melted in your mouth. The method totally enhancing the smooth, buttery quality of this Sicilian olive, which has taken America by storm over the last 3 years. It was like savory candy. I will be trying this at home.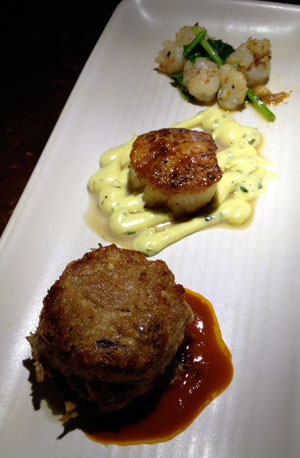 We also decided to try the Chef's Meze Plate, which is a daily assortment of three little bites that are as in-the-moment seasonal as it gets. That night our trio of delights consisted of Garlic Rock Shrimp, a Pan-Seared Scallop and house made Pork Rillette over House Hot Sauce.
While I enjoyed them all, I'm still dreaming of the Rillette. I can never get enough pig, and this iteration, which had the delicate texture and temperature of a fried crab cake, but the full-flavor of pork was an eye-opener and pure pleasure on the palate. I could have eaten 10 of them. I wish we had ordered more.
Since we had been surviving mostly on seafood - a must while in New England - and I wasn't in the mood for meat, I ordered the Baked Farmhouse Ratatouille with Molten Savage Cheese in the hopes of counteracting all the high-fat foods we had been indulging in. The Man got that evening's special, Pan-Roasted Monkfish with Sauteed Squash and Hazelnut Risotto. They had him at monkfish. The risotto was a no-brainer after that.
My meal came out blazing hot in its' own little cast-iron skillet with a layer of gooey cheese covering the top. I knew the cheese would make me happy, however, I was unprepared for how truly great the vegetables would be. If all zucchini and squash recipes tasted like this, it would start a vegetable revolution. The texture was perfect - not too mushy not too crunchy - and you got the right amount of cheese with every bite.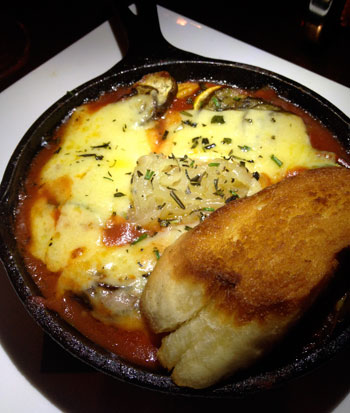 Plus, it stayed warm from the first forkful to the last, which made me so, so happy. (I hate tepid food.) I wasn't that hungry when we sat down and was sure, before I started, that I would not finish my meal. I savored every bit. Simple, fresh and intense. You know a chef is great when they can make vegetables taste that good. I was even able to sneak a bite of the monkfish and risotto, which was delicate, well-seasoned and nicely balanced. I'm not a fish lover, so it's hard for me to judge. The Man practically licked the plate, so I think it's safe to say he enjoyed it. A lot.
We always try each other's food. Many times ordering dishes we both want to taste and then switching in the middle of the meal. When we're done, we discuss and declare a winning dish, just amongst ourselves. I've been on the losing side of the table quite a lot lately. But not here. I could not have been more satisfied when I finally eased myself up from the table.
What made the evening even better was the service. Our waitress was fun, informative (about both the town and the restaurant itself) and spot on with her wine and food recommendations, sort of a must for a place that's also a wine bar. She clearly enjoyed her job and that made the experience even more pleasurable for us. The menu is the same upstairs in the Wine Bar, which would be a great place to grab a snack and a glass, but I preferred the vibe downstairs for a longer dinner. There was no rush, but also perfect pacing. While LA has great food, the service is generally appalling across the board. We forget how nice dining out can be, until we experience a place like the Black Trumpet that takes pride in every aspect of their business.
As usual our bar bill was half our check. What can I say, we enjoy a good glass or two. Perhaps their menu is bit pricey for the locals; however, we found it spot on for the quality, care and imagination that came out on the plate. The menu is switched out every six weeks to take advantage of the seasons, which clearly inspires both the Chef and the staff. If Black Trumpet Bistro was in my neighborhood I'd be a regular.
BLACK TRUMPET BISTRO: 29 Ceres Street, Portsmouth, NH • 603 431 0887
Lisa Dinsmore is a writer, web programmer, movie and wine lover. She currently runs two review websites to share her passions: www.crazy4cinema.com and www.dailywinedispatch.com. She is also the Managing Editor of One for the Table.