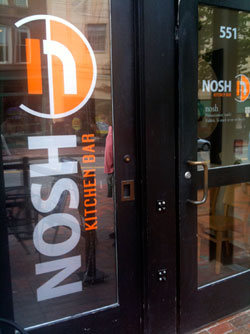 We're not really "food TV" watchers since most of the shows make me hungry and feel inadequate as a cook, but we've recently become addicted to Man vs. Food. It's nice to live vicariously through host Adam Richman because the amount he eats per half hour show would satisfy a small village. You get to see all the fatty, gooey, meaty, spicy goodness without any of the caloric repercussions. In fact, it's the one show I watch when I'm feeling peckish because just seeing him pound down French Fry-covered, foot-long chili dogs and manhole-sized pancakes makes me so disgusted I never want to eat again. Or at least holds off my hunger until my next official meal.
While the show always ends with some outrageous eating challenge, the first two places he visits are usually local, mom & pop joints that feature a local delicacy or that take a food staple and turn it on its head. He recently did a show from Portland, Maine and since we were going to be heading thru there on our vacation, we decided to see if the food at one of his choices – Nosh Kitchen Bar – was as good as it looked. Adam ate their top of the line burger called the Apocalypse Now, which is an all natural beef pattie topped with American Cheese, seared pork belly, cured bacon, foie gras, homemade mayo and macerated cherries. It looked amazing on the show, but seemed way too rich for us. We just couldn't go there. He's an eating professional.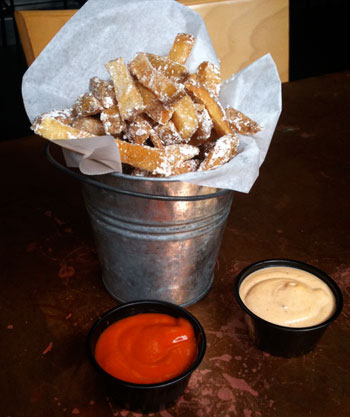 After scoping out the rest of the menu, which features somewhat innovative takes on classic deli sandwiches, what really caught our eye was the Bacon-Dusted French Fries. You heard me. Bacon, dusted, fries. I don't know how you turn bacon into a white powder, but I have to say I'm glad they figured it out.
These tasty morsels surpassed my expectations and I would eat them everyday if I had the opportunity. Perfectly crisp on the outside and soft on the inside, with ketchup or their chipotle mayo, I could have skipped the sandwiches and been perfectly satisfied. One of the best things I've put in my mouth this year. They should sell little containers of the Bacon Dust. They'd make a killing.
We did order something more substantial to go with our fries: the Nosh Burger, which is topped with blue cheese, bacon, roasted garlic jam and a fried egg; and the Pig Belly Reuben, which came on grilled rye bread with cheddar cheese and russian dressing. As much as I was looking forward to the Reuben, it turned out to be just too fatty and heavy. We got it without the caramelized onions (neither of us are fans), but I have a feeling they would have helped cut through the richness of the other ingredients. It did make me realize how much I actually like Rye bread though.
On the other hand, we got the burger as an afterthought (we couldn't agree on another sandwich) and were both pleasantly surprised by how good it was. I'm beginning to think all grilled sandwiches should come with a fried egg. The meat was perfectly seasoned and not too thick, so you could actually take a bite without fracturing your jaw. The blue cheese was melted and not just crumbled on top, which causes it to fall out when you take a bite - a major pet peeve. The brioche bun was soft and buttery, but had enough texture to keep everything in place and who doesn't love bacon on a burger? I wished we had ordered two so I could have had the whole burger to myself.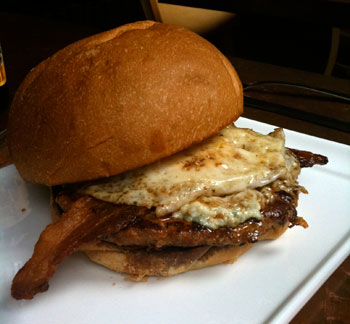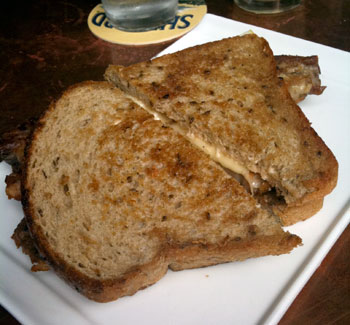 All in all it was one of the best meals of our trip and a place we would definitely visit again. We ate at the end of the lunch hour, so it was pretty empty. Am sure with the full bar and big screen TVs this place can get pretty crazy at peak times. However, I would brave a crowd for another bucket of those fries.
NOSH KITCHEN BAR
551 Congress Street
Portland, ME
207-553-2227
www.noshkitchenbar.com
Lisa Dinsmore is a writer, web programmer, movie and wine lover. She currently runs two review websites to share her passions: www.crazy4cinema.com and www.dailywinedispatch.com. She is also the Managing Editor of One for the Table.