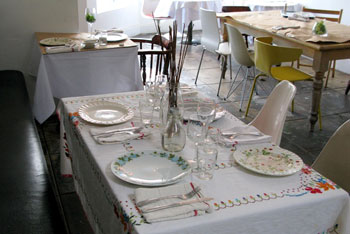 When I first met my husband, I told him that I'm part Native American. I'm also half Jewish. This is when he said to me, "You don't live on a reservation…you make them."
I'm sorry, but you will not be able to make a reservation at Wolf in Sheep's Clothing, a new pop-up restaurant on Abbott Kinney housed in what was once Capri. Well, you can if you are a party of six or more. Since I am a huge micro-manager, my suggestion is go, leave your name if there's a wait, and walk around, going in and out of the great stores. They will even phone you when your table is ready.
It's rare that I'm blown-away by a restaurant, but I have become the town crier for this one. Which is funny because the woman who once dubbed me the town crier because I like to share all my finds, is the one that called me late one night, sated, and told me every detail of her experience at this one. She mentioned that they only serve beer, wine and water, a fact I chose to ignore. So, the very next evening when I dragged my husband to an early dinner there, I tried and failed to order iced tea.

The waitress informed us that once they get a permanent location they will serve tea and coffee. I asked if anyone would object to me running out to fetch a drink, and not waiting for a response, came back with the beverage I wanted. I was already in love with the whole casual atmosphere and attitude of the place and its staff. Nothing like the snooty wait staff at some of the other restaurants on the block. No, I'm not naming names. (You know who you are.)
The tablecloths and mismatched cutlery are sort of Shabby Chic meets French Country. I love the ghetto, stroke-of-genius artwork. Like the sign out front by local artist Lacey Cowden, who drew the wolf and the restaurant's name on a torn sheet of butcher paper. They say the sign is stolen weekly, so they just keep putting a new one up. And now they have added a stack of vintage suitcases outside, in front of the restaurant. Ms. Cowden's doodles on bits of torn paper also adorn the walls. It's just so cool, like all of Abbott Kinney.
Then we hunkered down and did some ordering. They had me at smoked rainbow trout, avocado toast, herb salad and egg. This – like most dishes here – is served on a small wood tray or cutting board. The toast has the avocado spread on it, and in an old mason jar is the smoked trout. In the center is the herb salad and sliced hard-boiled egg. Though I wasn't sure how to eat the dish, instinct kicked in and I picked up a piece of toast, spread the trout on it, and topped it with a slice of egg. I've gone back several times and tried many dishes, but writing about this one is making me so happy with sense memory.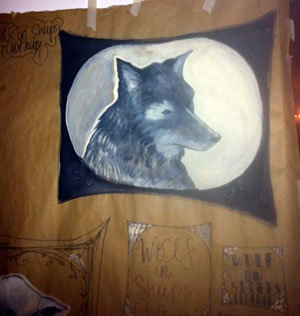 Okay, onto the next one that we inhaled. Marinated anchovy with soft bread. Wonderful anchovies are drenched in olive oil with slivered garlic and served with warm, fresh out-of–the-oven bread. Amazing. Gone in about a minute. And on that first trip to WISC, we shared the Hanger Steak with Hen-of-the-Woods mushrooms. On other trips, we've had quite possibly the best sand dabs I've ever eaten in Los Angeles, served with Hedgehog mushrooms in an almond brown butter and lemon sauce, much like an Almondine sauce, so good you want to lick the plate. My stepson fell so in love with the baked oysters with creamed collard greens and bacon, he just kept reordering.
And on one visit, I had something that I'm just not sure anyone in California can get their brain behind because everyone is so health-conscious: an appetizer of fried chicken skin. Seriously, just the skin. And since that's all I ever want when I order fried chicken, I cannot tell you how happy I was eating this dish. I'm not going to go on any more about the specific dishes I've loved because the menu changes often. I will say this: I've never had anything I didn't love. All right, one more dish, the kale salad is the best in town. The kale salad has sheep's milk cheese, Pink Lady apple, date and walnut vinaigrette.
Brian Dunsmoor (Axe, Hungry Cat) and Kris Tominaga (Joe's Restaurant) are the chef/owners who came up with the concept behind this new fabulous restaurant. So clever. So original. Oh, forgot to mention, so affordable!
"Beware of false prophets, who come to you in sheep's clothing, but inwardly are ravenous wolves (Matt. 7:15).
Nah, go ahead, get ravenous!
Wolf in Sheep's Clothing – 1616 Abbot Kinney Blvd, Los Angeles, CA 90291
Fredrica Duke shares how she discovered her love of food while growing up in Los Angeles on her blog Channeling the Food Critic in Me.