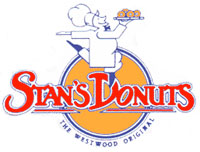 There's something about being up at 4:00 a.m. that I feel, gives me permission to go to hell in a hand basket, gastronomically speaking. I dropped my husband and kids off at LAX so he could escort them to Connecticut for summer camp. I always feel bereft when the kids are away. Especially our younger daughter Hannah, who I think on the eve of leaving, feels obligated to be sweeter to make up for the fact that her older sister Lena, urged by her teenage-ness, becomes, well, let's just say, not so sweet.
I slept with Hannah last night and it was like being 13 all over again. Although I think our combined ages when we do that amounts to about 10. "Quit tickling me!" "I'm not Mom." "Are too!!" "Am not!" "Oh, Christ, you farted!" "Miss me yet?"
Driving home from the airport, I thought, 'what would be open at this hour that would be absolutely decadent and bad for me…..?" "Stan's!"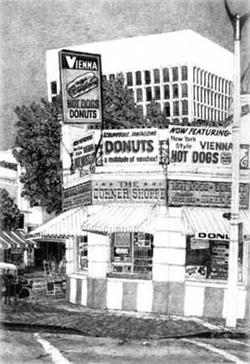 Here's how far back I go in Westwood. I remember when the site where Stan's donuts is was an Orange Julius stand. A sweet, white haired old Scottish couple owned it. Their boiled hot dogs and steamed buns were 25 ¢ and the small Orange Julius was a dime! The movie theatres across the street; the Fox and the Bruin cost 50¢. I think the first movie I saw there was South Pacific. I had a wicked crush on the guy who fell in love with the chick who lived on Bali Hai.
By the time I got to Stan's this morning it was 5:15 a.m. and they were open. I was SO excited! The last time I had donuts this early was when I went to the flower mart downtown. It was also around 4:00 a.m.
The lady at Stan's was laying out the freshly made donuts in the case and I didn't see what I wanted, which was an apple fritter. Don't get me wrong, everything looked great. They had an interesting spin on a buttermilk donut; blueberry buttermilk. I promised myself; "Next time." I asked the lovely lady if she had apple fritters and she said with the much-appreciated economy of the early riser "five minutes". I ordered a coffee and took the only reading material available to me: The Jewish Journal.
There was a funny article about a revival of a play written about a screenplay commissioned by Samuel Goldwyn to be written before Gentleman's Agreement could beat them to the punch. That was the 'other' Hollywood movie dealing with the subject of anti-Semitism. What was funny about the whole thing was that he asked Ring Lardner to write it and when Lardner turned it in, Goldwyn harangued the guy for not writing it like a goy. Guess Lardner was too empathic. Nuts.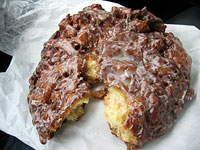 My fritter arrived at my table and it was hot! For the 10 minutes it took me to eat this, drink my coffee and read the article, all thoughts of my kids being away were gone from my mind. My older daughter's admonishment that she wouldn't have fun this time because she'd be missing her boyfriend who would be here in L.A. and then off to college when she got back clung to me like the crab-like creature in Alien. You know, the one that grabs onto your face and implants you with the baby Alien? In the words of Sam and Dave: "When something is wrong with my baby, something is wrong with me."
Eating the donut kept all thoughts of the hundreds of bug bites Lena gets and the homesick calls that Hannah makes. Eating the donut momentarily stopped the ping-pong tournament of second guessing my parental decisions. Come to think of it, donuts might be just the thing to get me through these teen-age years. Can you say spandex?
STAN'S DONUTS
10948 Weyburn Avenue
Westwood Village, CA
(310) 208-8660
Laraine Newman is a founding member of The Groundlings Theatre Company and an original cast member of Saturday Night Live. She lives in her hometown of Los Angeles with her husband and two daughters.