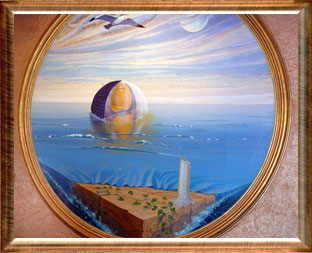 Darya in West L.A.
I wish my comfort food was as simple as mac and cheese or ice cream with chocolate sauce and gobs of whipped cream. But I grew up with a Persian mother and nothing makes me feel better than basmati rice with saffron; eggplant and zucchini in a tomato stew with veal; filet mignon kabobs, marinated and then grilled to perfection – the dishes that she raised me on. Back in high school and even to this day, my friends still invite themselves over for dinner in hopes that my mother will be cooking her legendary rice served with one of her Persian stews.

But these days, when I'm in need of my ultimate comfort food, kabob koobideh (juicy ground beef kabobs) and basmati rice, I can't quite pop into my mother's kitchen in New Jersey since I'm currently living in L.A. Luckily, there's Darya- this oddly glitzy but still accessible Persian restaurant in West Los Angeles that comes to the rescue when nothing else but Persian food will do. Over the years, I've taken countless people there and have turned just about every Angeleno I've taken into a Darya addict. So the next time, you're feeling a little blue (or just hungry!), grab a few friends, take a long lunch or dinner, and order the feast below.

To start….

Maust'Mousier – a thick creamy yogurt with chopped shallots that you'll want to scoop up with lavash bread.
Darya Salad – the best salad I've ever had in salad obsessed LA. It's got lettuce, tomato, cucumber, feta cheese, calmata olives, raisins, dates, and walnuts in a fresh lime juice and olive oil dressing.
Tadig-cripsy fried rice with up to one, two, or three stews served on top. Tadig is what everyone fights over at the dinner table to get another piece. But at Darya, you get an entire plate of it for your appetizer. Order the Fesenjoon, chicken and walnut cooked in pomegranate sauce, and the Gheymeh Bademjan, sautéed eggplants and yellow split peas in a tomato sauce, to top your tadig. Be prepared to duke it out for the last bite of this fabulous and crunchy appetizer.

For the main dish….

Darya is known for it's kabobs and rice and while the chicken kabobs (especially with bones) are quite good but it's the beef kabobs that make even my worst day turn into a good one.

The Soltani – one skewer of charbroiled marinated filet mignon and one skewer of seasoned ground beef served with basmati rice topped with saffron and charbroiled tomato. On your table next to the salt and peppershakers, there will be sumac (it's a maroon colored condiment that has a tangy kick to it), which is a popular condiment that is sprinkled on for kabob dishes. Try adding some to a bit of your kabob and rice (test this out before you cover your plate in it!) and you might get hooked like everyone else.

And last but not least…

Persian tea and one serving of Zoulbia – a mixture of flour, sugar, and rosewater in intricate pretzel shapes. Zoulbia is very sweet and very perfect with hot tea.

Don't be surprised if all of this turns you into a Darya addict and you quickly return to try their extensive menu and their various tasty rice dishes (the albaloo polo and adas polo are two you don't want to miss).
Darya
12130 Santa Monica Blvd
310-442-9000

Sara Mohazzebi is a writer and producer living in Los Angeles. She is currently working on her first novel and writes for Emirates Woman Magazine and Society Dubai.