Clementine, the great west-side L.A. charcuterie has amazing candies, too...
Ok, so I love Shirley Temple. Anyone who thinks I'm a sap can eat me. She was a genius. There's never been a child performer who could do what she did. At the age of 3, she could sing, dance and act.
When she uh, matured, one of the many things she did was a television show called Shirley Temple's Storybook. It ran from 1958-1960. She did all the classics and even starred in some of them.

As young as I was, I was aware of the schism between her matronly plumpness and the tight fitting costumes she squeezed into as she appeared as The Little Mermaid among others. But, that never diminished my love for her.

One story stayed with me always. It was Pippi Longstocking. Everything about it captivated me. What the hell did I know about adaptations and TV versions? I was 7. All I knew was I wanted to be her. She was free of parents, her life was one rip snortin' adventure after another and she had magical powers….one of which was her supply of Smart Pills. And you know what they were? CARAMEL COVERED MARSHMALLOWS!!!!!!!!!! That's right! Not only did I happen to love See's Scotch Kisses I really needed to be smarter! Ok, so I really didn't believe it. But I loved the fantasy of it. Just like I loved eating spinach as I hummed the Popeye theme song.

See's Candies was right next to the Bruin Theatre in Westwood Village. I, like any other kid, often had the fantasy of being locked in a candy store for the night. I loved candy so much that my dad jokingly called me a 'candyholic'. I like to think; connoisseur. And as far as I was concerned, no other brand could come close to See's. I'd get angry with people who tried to justify Russell Stover's existence.

Brand loyalty ran strong for me. I couldn't stomach the east coast equivalents. Fannie Farmer could kiss my ass. I even felt passionate allegiance to Best Foods Mayonnaise and Knudsen dairy products.

Now, near my house, tucked away from the noise of the newly enhanced Santa Monica Boulevard, or as we Westsiders call it: The Champs Elysees, is probably the best home cookin'/takeout café in Los Angeles. Clementine. Its Key Lime Pie was voted the best in town by Los Angeles Magazine. The whole concept of the shop seems like it could have comfortably existed on Diagon Alley where Harry Potter could grab a snack. Clementine has alienated my affections for See's Scotch Kisses. Many of the candies they have, simply can't be found anywhere else. It seems as if they scrupulously avoid the obvious and I LOVE that. And they stock The Modjeskas. It's a high falutin' Scotch Kiss and once you taste it, there's no turning back.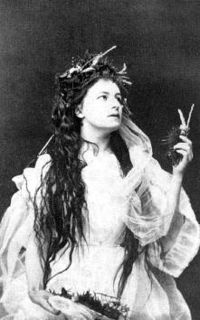 And you gotta love its story. Named after Helena Modjeska, queen of the European stage, on one of her stops in Louisville, Kentucky in 1883. Evidently, candy-maker Anton Busath was so enamored of her and her performance in one of the first versions of Ibsen's Doll House (so new that the character of "Nora" was "Thora") he asked her permission to immortalize her in caramel. The Modjeska.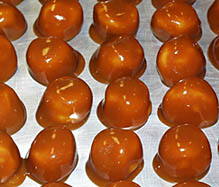 The caramel is soft and you can taste the right balance of salt and brown sugar as it dissolves on your tongue. The marshmallow is fresh, so you're not risking TMJ when you eat it. Many of the other candies Clementine stocks have a good story to go along with them, too. "Candy Lore". A new genre.

I've passed the "Smart Pill" fancy on to my kids. They are similarly enchanted by the concept. But of course, nothing's too good for my gals and so their "Smart Pill" has a lineage. It's Royalty! I've tried to get them to appreciate Shirley Temple, but like my cooking, I've hit a brick wall with that one. I feel sorry for them really. All they have is Dakota Fanning (good actress) or, ugh, Lindsay Lohan (used to be a good actress). I'd like to see those two do a single standard full break while singing and smiling down a staircase with Bill Bojangles Robinson. No, really, I'd like to see that.
Clementine
1751 Ensley Ave
Los Angeles CA 90024
310-552-1080
Laraine Newman is a founding member of The Groundlings Theatre Company and an original cast member of Saturday Night Live. She lives in her hometown of Los Angeles with her husband and two daughters.
Laraine Newman is interviewed at Mental Floss