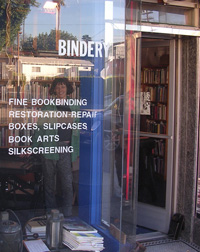 My husband's last name is Einbinder. We've always assumed the German translation (one binder) meant that it was the moniker for the trade of bookbinding. It's a rare name. In fact the only other person we've ever met with any connection to that name is the movie director Mike Binder. One day, years ago, at the Pumpkin Patch in our neighborhood, we struck up a conversation with him. Blank Man, a movie he directed, was absolutely the funniest movie that year. It still holds up. David Allen Grier kills in it. Of course, he always kills. It turned out that Mike's last name was shortened from Einbinder. Since then, when we see him places, we exchange that twinkle of recognition of our 'kinship'.
Recently I decided my copy of The Joy of Cooking deserved better than duct tape holding it together. Months ago I'd read an article in Daily Candy about Charlene Matthews who practiced the lost art of bookbinding. I put it in my email archives under "of interest". I'm actually getting things done on my list of long avoided tasks and this was one of them. What an adventure.

Charlene's shop is on Melrose at Larchmont in Hollywood. I parked in the back and peered into an open door that was unmistakably her place. Two drafting tables were in the foreground and were cluttered with all manner of curiosities as well as tools of the trade. Strips of fabric, leather book spines, spools of thread, scissors, mitering tools, an old May Company box with drawings of Olivera Street, City Hall, The Dorothy Chandler Pavilion and The Huntington Rose Garden. In back of the tables was a wall of bookshelves that looked like you'd just stepped into 1942. All hardcover, of course, but the covers were colors you just don't see anymore. There was also art on the wall that I later learned was hers.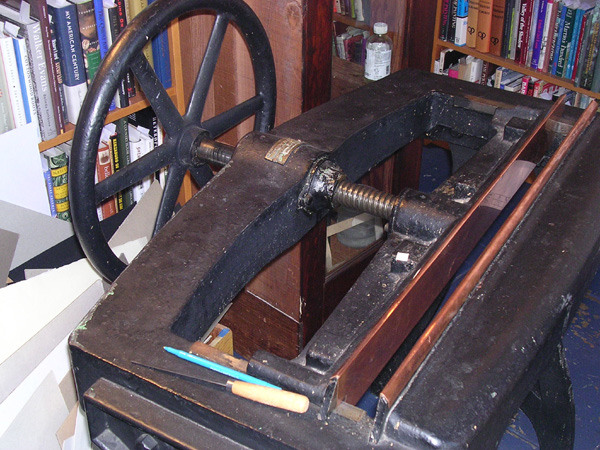 When I stepped inside I could see her in a small room with no door, her tall thin frame stooped over, working with a thread and needle. She was binding scripts for a production company who was trying to sell a movie project with just photos that constituted a storyboard of sorts. It would have served beautifully as a coffee table book with its fine blue silk cover and quality paper stock. I introduced myself as the person who woke her up that day asking what her store hours were. She doesn't live there. All her business calls were going to her cell phone because the shop phones were down.
Everything about her appearance said "artist". Her punk, orange rust hair color looked surprisingly natural against her tan skin and shocking blue eyes. Her long, slender fingers looked absolutely trashed which seemed heroic to me. Clearly there's a good deal of pain involved in this occupation.
"You called about your Joy of Cooking, right?" Her voice is very Lauren Bacall. "I love restoring those." "Of course." I thought. "There must be legions of people, who cherish this book that's taken so many bullets for Beef Stroganoff, Pot Roast or Baked Alaska".
I told her I didn't mind the food spatter on the pages. "I never remove that stuff. Even if you asked me to, I wouldn't." This woman knew how to honor the soul of a loved cookbook….. well any book by the look of the place.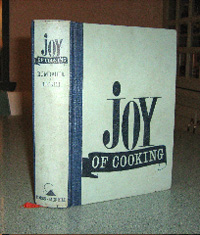 She showed me a botany book she'd done for a woman who hadn't come for it in 8 months. "That happens a lot," she told me. The spine was weary, like mine, so she replaced it entirely with a gorgeous, butter colored piece of leather. She'd embossed it with Palm Trees. It completely complimented the original cover, which was worn, but grand with its black frayed cloth.
What can I say? I was dazzled and intrigued by the whole experience. I even discovered there are shows for The Guild of Book Arts, just like any other art form. I think I'd feel way cool if I could casually mention to my friends that I'd gone to something like that. I'm a Philistine, so I'd love to have something like that in my lexicon of hipness.
She showed me a book she did on camera lenses that actually contained the lenses on each page. They got successively smaller so when it was closed it looked like you were seeing a wormhole in space. A very colorful, textured vortex that you could fall into.
I was enchanted and wandered further toward the front of the shop, which faced the street. Every one of us has a book that needs a hospital like this one. The doctor is in.
Charlene Matthews Bindery
5720 Melrose Avenue
Los Angeles, California 90038
(323) 962-2109
Laraine Newman is a founding member of The Groundlings Theatre Company and an original cast member of Saturday Night Live. She lives in her hometown of Los Angeles with her husband and two daughters.