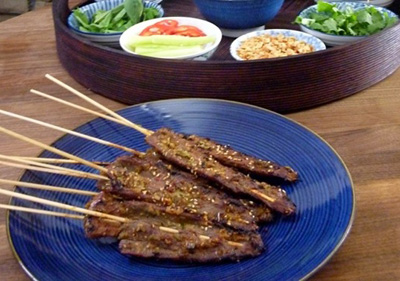 Holiday time and the sipping is easy. As for the food—I have four words to help you take your New Year's Eve bash over the top: fire up the grill. Yeah, it's cold out there—especially if you live up north, but live fire and wood smoke add high drama and depth of flavor you just can't achieve on the stove or in the oven.
So what makes a great holiday hors d'oeuvre spread? Three words: snap, crackle, and salt. Appetizers should be small enough to snap up with your fingers and salty enough to drive you to drink. The appetizers offer a contrast of textures, the most important texture being crunch. (I'm thinking crisp bacon exterior with gooey cheese center.) The short list of world-class starters includes poppers and chicken wings, dips and chips, mini sandwiches and sates.
Here are 7 indispensible tips to help you take your New Year's Eve cocktail party over the top.
1. Variety matters and so does abundance: If hors d'oeuvres are the only food served at your party, figure on 6 to 8 pieces per person. Serve at least 3 to 5 different items—the more the better. Your reputation as a savvy host and accomplished grill master is directly proportional to the elaborateness of your menu.