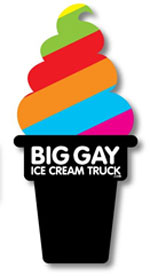 "Brooklyn" is my drop dead cute, young hair colorist at Frederick Fekkai! What do we have in common other than the color of my roots, you ask? Food! We both love to cook. This morning I was mouthing off about my newest secret food sin – Hagen Das Dulce de Leche Frozen Yogurt with Maldon Salt flakes sprinkled on top….
"OMG, have you heard of The Big Gay Ice Cream Truck?" he asks.
"OMG No? A Gay Ice Cream Truck???"
"… With a painted rainbow soft cone and Disco music! I had the best vanilla bean ice cream with Bariani olive oil and sea salt!"
OMG!
I went to the web site.
Remember as a child running up the block trying to catch the Good Humor Man? Well, with Twitter you can chase the Gay Truck all over town!
Such timely tweets as:
Holy busy, Batman; I haven't been able tweet. At 8:30 packing up and moving to the East Village.
@HeightsCat yes, I think the truck and I are starting to become a single unit. I feel the same way too. Overheated and wobbly.
A fan in the generator popped out of the mounting. As soon as it's back in, I'm on my way.
Once this bizarre scene is over I'm heading to Union Square. Should be open no later than 2- watch for a tweet.
OK, now that I know where the truck might be, what do they have to make the chase worthwhile?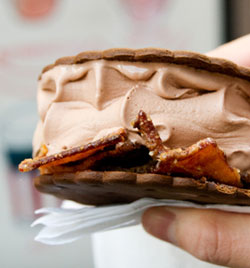 A sampling of their menu:
THE CHOINKWICH: Chocolate Ice Cream, Chocolate Cartwheel Cookies and Caramelized Bacon.
THE SALTY PIMP: Vanilla Ice Cream, Dulce de Leche, Sea Salt, Chocolate Dip
THE COCOCONE: Toasted Curried Coconut
Toppings such as Cayenne Pepper, Wasabi Pea Dust, Pumpkin Butter, Cardamom and Ginger Syrup are also available.
I guess it is no surprise Time Out New York awarded The Big Gay Ice Cream Truck "Best New Street Treats 2010"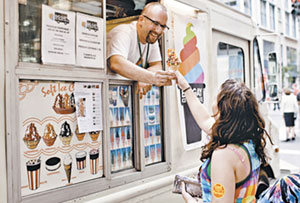 The master behind this venture, Doug Quint (with his partner, Bryan Petroff,) proudly states his operation does not aspire to be artisanal, but "celebrates the Mister Softee tradition" (crossed with Mario Batali according to the Village Voice)
"What's the guy on the truck like," I asked.
"He is always smiling… but I don't think he makes the gym very often."
NMP … if only the Big Gay Ice Cream Truck would tweet its way to 5th Ave and 63rd street!
Website: Big Gay Ice Cream Truck or follow them on Twitter
Nancy Ellison, award winning photojournalist and celebrity portraitist, has authored fourteen books of photographs, including "Romeo and Juliet: The Love Story in Dance" and "Starlet". Her newest book, "Wagner's Eternal Ring" will be published this September by Rizzoli.