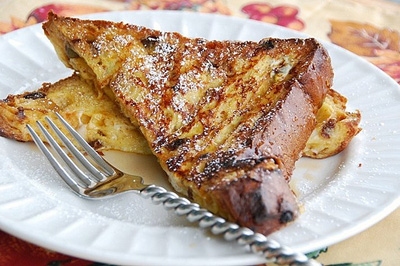 Back in Rhode Island, there was never much to look forward to after Christmas. The holiday decorations came down, it was depressingly dark by 4:30 pm, and that once-fluffy-perfect-for-sledding-snow had turned into treacherous black ice. But there was always panettone.
Panettone is an Italian sweetbread made with candied orange, zest, citron, and raisins that is closely associated with Christmas and New Year's Day. Growing up in Rhode Island, my family received a lot of panettone for Christmas because it was a go-to gift among Italians. Need a gift for your lawyer? A loaf of panettone is perfect. Invited to someone's house for coffee around the holidays? Bring panettone. Have an exceptionally good mailman? Give him a loaf of panettone, plus a shot of anisette when no one's looking. That always warms him up a bone-chillingly cold route.
Though panettone is delicious unadorned, I always preferred it toasted with a dab of butter or some orange marmalade. However, my favorite way to eat it was my mom's panettone French toast. She would cut super thick slices (because, really, where's the fun in thin French toast?), dip them in a mixture of egg, milk, cinnamon, vanilla, and orange zest, then cook them until golden brown and plump. All they needed after that was a drizzle of pure maple syrup and a dusting of confectioners' sugar. And that is exactly what I'm sharing with you today.
If you didn't receive any panettone this holiday season, then go to your nearest Italian specialty market or deli and buy a loaf. Chances are they'll still have leftovers from Christmas, so you may even get one on sale. I received mine thanks to the generosity of Maryann and Joe, when I participated in their Italian Feast of the Seven Fishes in December.
Since I won't be getting fresh falling snow any time soon here in San Diego, I may have to walk over to Little Italy for another loaf of panettone. After all, winter still has a way to go.
Panettone French Toast
Makes 6 large or 12 small servings
1 loaf Italian panettone bread, cut into 6 thick slices
6 large eggs
1 1/2 cups milk (whole or low-fat)
3/4 teaspoon ground cinnamon
1 1/2 teaspoons pure vanilla extract
zest of 1 large orange
butter, for the griddle
maple syrup
confectioners' sugar
In a shallow bowl or pie plate, lightly whisk eggs; add milk, cinnamon, vanilla, and orange zest and whisk until well combined.
Place griddle over medium-high heat. Melt a little butter on the griddle until just coated.
Dip one slice of bread in the egg mixture, allowing the excess to drip into the bowl, then place on the hot buttered griddle. Cook for 1 minute per side, or until golden brown and the egg has set. Place on a warm plate and cover until ready to serve. Repeat with remaining slices, buttering the griddle as necessary. Cut each slice into 2 triangles. Place 12 triangles of French toast on a serving platter. Drizzle with maple syrup and dust with confectioners' sugar. Serve hot.
Susan Russo is a free lance food writer in San Diego, California. She publishes stories, recipes, and photos on her cooking blog, <Food Blogga and is a regular contributor to NPR's <Kitchen Window. She is also the author of  Recipes Every Man Should Know
and The Encyclopedia of Sandwiches
.