I don't know who creates these things, but apparently April is National Grilled Cheese Month. Holiday or not, grilled cheese sandwiches seem to appeal to everyone. It's one of my favorite lunchtime treats –especially when there almost nothing left in the refrigerator – there's always cheese and bread. Comté cheese, with its complex, nutty, caramelized flavor pairs perfectly with the sharp cheddar. If you can't find it, you can use all cheddar. Choose high quality sandwich bread – white, wheat or sourdough all work well. Serve on its own, with mixed greens, or my favorite – creamy tomato soup.

Serves 6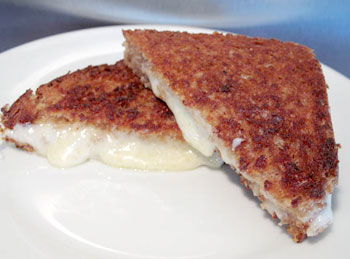 3 tablespoons butter, melted
4 thick slices white, wheat, or sourdough bread
1 teaspoon Dijon mustard
2 ounces Cabot Extra Sharp Cheddar, grated
2 ounces Comté cheese, grated
Heat a heavy 12-inch cast iron skillet over low to medium-low heat. Meanwhile, spread ½ teaspoon of mustard on the two bottom slices of bread and then sprinkle evenly with the grated cheeses. Top each with a remaining bread slice, pressing down gently to set.
Brush sandwich tops completely with half the melted butter; place each sandwich, buttered side down, in skillet. Brush remaining side of each sandwich completely with remaining butter. Cook until crisp and deep golden brown, 5 to 10 minutes per side, flipping sandwiches back to first side to re-heat and crisp, about 15 seconds. Transfer sandwiches to a cutting board and slice in half with a knife. Serve warm.
– Recipe courtesy of Cook Like James