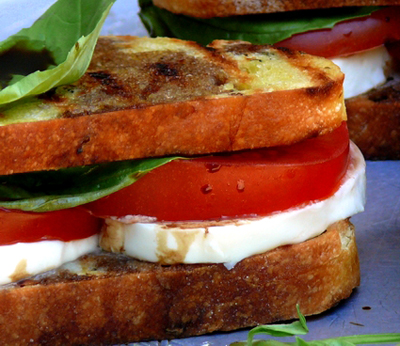 Recipe from Noble Pig | Serves: 4-5 people
Ingredients:
1 (12 ounce)

loaf rosemary and olive oil bread or other crusty bread, sliced

olive oil

2 cloves

garlic

4 large

vine-ripened tomatoes, sliced into rounds

20 (approx)

basil leaves

1 pound

fresh mozzarella cheese, sliced into rounds

balsamic vinegar

Fleur de sel or kosher salt
Directions:
Preheat grill or grill pan until hot. Brush slices of bread with olive oil, both sides. Grill bread on one side until golden brown.
Turn over and on half of the bread slices, stack the mozzarella and tomatoes, sprinkling the Fleur de sel on the tomatoes, let it warm until the cheese is slightly warmed. Remove from the grill and top tomatoes with several basil leaves.
Sprinkle with balsamic vinegar and top with another slice of bread. Rub the top piece of the grilled bread with a clove of garlic. Sprinkle top of bread with a little more balsamic vinegar and top with another basil leave for garnish.
Recipe courtesy of noblepig.com.