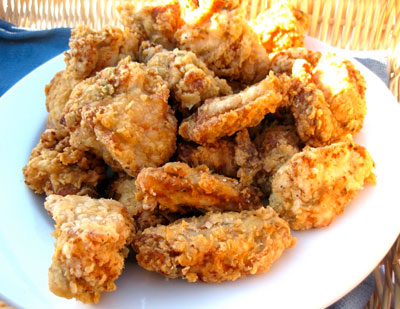 What a beautiful day! Perfect for taking a walk at the beach, shopping at our local farmers' market, cooking, and eating outside.
We've cleaned off the deck. Arranged tables outside for lunch. Prepared a carrot salad and a couscous with grilled vegetables, made kosher pickles and a pasta with braised beef and watercress, soaked chicken and onion rings in buttermilk for fried chicken, and baked a custard with chocolate.
Today will be a good day.
For me the fried chicken with onion rings is the centerpiece of the meal. I have strong childhood memories of my mom making fried chicken when we went to Will Rogers State Beach in Santa Monica. Nothing Colonel Sanders ever made came close.
Rosemary Fried Chicken
Yield: 4 servings
Time: 45 minutes to prepare, marinate the chicken overnight in buttermilk
Ingredients:
1 whole chicken, washed, cut apart, wing tips and bones reserved to make chicken stock
1 quart buttermilk
4 cups flour
1 teaspoon sea salt
1 teaspoon pepper
1/4 cup finely chopped fresh rosemary leaves
1/4 teaspoon cayenne pepper (optional)
1/4 teaspoon sugar (optional)
1/4 cup finely chopped yellow onion (optional)
2 tablespoons olive oil
2 quarts safflower or canola oil
Method:
When you cut up the chicken, separate the two parts of the wing and cut the breast meat off the bone. Keep or discard the skin as you wish. The breasts can be left whole but will cook more evenly when cut into strips or tenders.
Toss the chicken pieces with olive oil and season with sea salt and pepper. Put the pieces in a container, add the buttermilk, 1 tablespoon of the rosemary, stir, cover, and refrigerate overnight.
Using a wok or deep frying pan, heat the cooking oil to 325 - 350 degrees or until a piece of parsley browns immediately when dropped in the oil. Before you begin cooking, prepare your counter. Have a slotted spoon or an Asian style strainer ready. Lay two paper towels on top of a piece of brown grocery bag paper on a large plate.
Reserve 1 teaspoon of the rosemary to use just before serving.
In a brown paper bag mix together the flour, sea salt, pepper, rosemary, cayenne (optional), sugar (optional), and onions (optional). Remove one piece of chicken at a time. Shake off the excess buttermilk, drop it into the paper bag with the seasoned flour, close the top of the bag, and shake. Repeat with all the pieces, assembling them on a plate or cutting board.
Cook the chicken in batches. Gently drop each piece into the hot oil, making sure it doesn't don't touch the other pieces so each one cooks evenly.
Turn over when browned on one side. Remove when golden brown and drain on the paper towels. The pieces will cook quickly: chicken tenders (breast) 2-3 minutes; wings 7-8 minutes; thighs & legs 10-12 minutes.
Just before serving, lightly dust the chicken pieces with 1 teaspoon of rosemary, sea salt and pepper.
If you are making deep fried vegetables like onion rings or broccoli florets, they cook even more quickly: thick rings cook in 30 seconds, thin rings in 5-6 seconds; broccoli in 30 seconds. Soak the vegetables in the seasoned buttermilk for a few minutes, then process like the chicken pieces.
David Latt is an Emmy-award winning television producer who turns to cooking to alleviate stress. He shares his experiences with food and his favorite recipes on his blog Men Who Like To Cook.