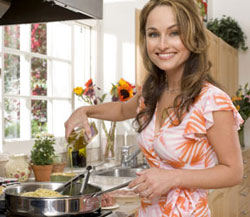 Between watching TV, overeating, avoiding walking the dog and playing Jewel Quest 2, who has time to plan meals? Not me. But lately I just can't stand it anymore. Also, the overeating has brought me to my knees. Literally. My knees are killing me! What I've been doing lately is watching the various cooking channels while foraging in my pantry in order to approximate ingredients.
There's always a show or a cookbook on how to keep a well-stocked pantry and I've learned from them. Yesterday this served me well when I created an after school meal for my starving teenage athlete who refuses to buy lunch at school because of the 'long-ass line' at the cafeteria.
As I watched the adorable Giada De Laurentis whip up a pasta dish I was inspired to create one of my own with the ingredients I had at hand. The day before, I'd gotten some gorgeous boletus mushrooms from the Beverly Hills Farmers Market. They were sitting on top of my toaster oven in a brown paper bag. I'd never cooked with them before and the surfer dude who mans the stand at the market always gives cooking tips that I suspect are one size fits all so I wasn't entirely confident but I figured with enough garlic and maybe some butter it would be alright. Well, it was more than all right.
I love pappardelle pasta. It seems like an event and everyone in the house loves it. I put a pot of heavily salted water to the boil and started my sauce.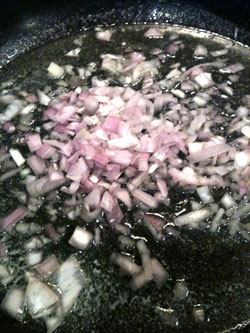 Giada started a sauce with shallots and I love shallots so I did too. Garlic, of course, but after that she added carrots and tomatoes so I was out on my own. I softened the garlic and shallots in some olive oil, then added the mushrooms along with a good-sized chunk of sweet butter. I saw her add salt to the sauce in the pan. Now maybe this is a silly distinction but I've only seen cooks add salt to a sauce being made in a pot. Usually I've seen salt added at the end when made in a pan and when I've done that it's often been under seasoned. Isn't that a good story? Ahem.
My last idea was to chop up little pieces of prosciutto. I'd seen the 'butt' of the prosciutto, um, loaf packaged and for sale and thought 'what the hell'.
I'd been smarting from my experience earlier in the week with pancetta. I've never been able to crack that code. It's impossible to cut and even harder to cook to any kind of edible consistency. Maybe it's my inexperience showing but as far as I'm concerned pancetta can take a flying leap! My daughter loved the dish I'd made with it (From Evan Kleinman's first cookbook Pasta Fresca) but she said, "Next time mom, no pig".
Then I chopped up some Italian parsley and grated some fresh Reggiano Parmesan. I was pretty f#@%*&g proud of myself because this dish was awesome and it looked like it was being served in a restaurant.
I had this entire fantasy built up in my mind of the how my daughter would feel coming home to a warm house smelling of shallots and garlic. A splendid dish waiting for her ravenous little self. Sigh. After about an hour past the time she was expected home, I called her. She was at Chin Chin (A Chinese Restaurant Chain). She never even tasted it. Neither did my husband because he hates Parmesan cheese. I was feeling pretty sorry for myself until I started to chow down. It was insanely good. The boletus mushrooms are to die for. Sure there were flaws in my plan. I probably should have let her know I was making something for her. Do you think this ever happens to Giada?
Pappardelle di Fungí Boletinni (Yeah, I'm making up the Italian)
1 1/2 medium size shallot minced
2-3 cloves garlic minced
4-5 tablespoons olive oil
2 tablespoons unsalted butter
1/2 lb. -1 lb. of Boletus mushroom or any distinctive flavored mushroom (except Shitake)
1 tablespoon chopped Italian Parsley
1/4 cup freshly grated parmesan cheese
1/4 -1/3 cup Minced prosciutto (optional)
1 teaspoon -1 1/2 teaspoons salt
In a saucepan large enough to hold the pasta when its done, sautee the shallot and garlic until transparent. Add the mushrooms. When the mushrooms have absorbed most of the olive oil, add the butter and more olive oil as needed to keep it moist and distribute the sauce and add the salt. Let cook on a low heat for about 10 minutes.
Add the pasta that's been cooked in heavily salted water. Toss in the pan and add the parsley and cheese and prosciutto.
Laraine Newman is a founding member of The Groundlings Theatre Company and an original cast member of Saturday Night Live. She lives in her hometown of Los Angeles with her husband and two daughters.