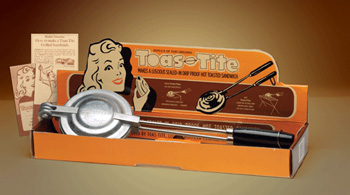 I was walking past Zabar's the other day and I noticed an ad in the window trumpeting the return of the Toas-Tite grilled sandwich maker. Just seeing the word – Toas-Tite – tossed me back six decades to my earliest childhood cooking experiences in suburban Baltimore. It seemed every family had one of these gizmos hanging on their kitchen wall or crammed into a drawer.
I entered Zabar's and climbed the steps to the second floor, where they sell pots, pans and every cooking gadget known to mankind, and they had a whole stack of them, boxed neatly in cardboard by a company that calls itself Replica Products, which says it all. The Toas-Tite of my toddlerhood was cast iron and weighed four or five pounds. I had to wait until I got big enough to lift it. This replica – perfect to the eye – comes in at about a pound-and-a-half, tops. Okay, fine. That's life.
I had to have it.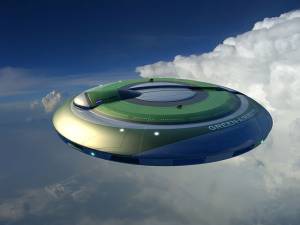 The Toas-Tite makes a grilled sandwich of any variety you can dream up. The sandwich comes out round, looking very much like the old movie-serial depictions of a flying saucer. You can make a Reuben; you can do bacon, egg, cheese and tomato; you can do a flying saucer calzone; you can bake a cherry pie. Sort of.
Sometimes I dot butter on the outside of the bread; sometimes I nap it with olive oil. Either one gives you that buttery/oily crunch, which is your first sensory experience with the Toas-Tite. The second being the melty cheese and third, whatever other concoction you've stuffed in there.
Today, I'm doing a Reuben – pastrami, which I will pre-steam a little; sauerkraut, ditto; house-made, artisanal Russian dressing – that would be half Hellman's, half Heinz, a little grated horseradish for the obligatory lumps and a dash of Worcestershire; and two slices of seeded rye bread.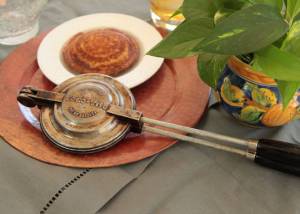 Again, gently lubricate the outside of the sandwich. In this case oil. Put a slice of rye on the Toas-Tite, oily side down. Then build your sandwich any way you like. Keep all the good stuff centered because you'll be trimming off the edges of the bread when you close and lock the machine. Then you just rest it on top of the burner of your gas range, turned to high – about forty seconds or so on each side. Then you unlock the handle and out pops your flying saucer.
Happy landings.
P.S. – Zabar's splendid rye bread, when sliced, is too small to use. The area of the slice of bread has to exceed the circumference of the Toas-Tite. Otherwise it doesn't toast tightly.

Michael Tucker is an actor and author whose recent novel is "After Annie
." He writes about his love of food on his blog Notes from a Culinary Wasteland.