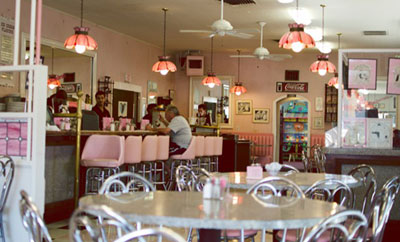 I have been piecing together my fantasy business in my mind for decades. Ever since I received a pint-size, hand-cranked ice cream maker for my birthday at age five, I have been obsessed with making ice cream. I've always imagined myself as soda jerk pulling my carbonator draft arm tenderly behind the counter of a polished chrome soda fountain. I had decided all the intricate details of what type of equipment I would need, period glassware, and the décor by the time I was 10 years old. I even concocted all the recipes for the gooey toppings by 16.
My obsession started years ago on my first visit to Scottsdale, Arizona. My parents treated me to my first period perfect ice cream parlor visit and I fell hopelessly in love. My first impression of the Sugar Bowl has never left me. I have an odd habit of spinning when I am overwhelmed by something beautiful. I spin to remember the whole picture - all 360 degrees of it. I spun that day taking in the whole Sugar Bowl ice cream parlor. It must have been someone's dream because every detail was so perfect, and then it became my dream.
The upper walls were papered with a 2-inch wide stripes; shell pink and creamy white above the cream-colored bead board wainscoting. The floor was covered with tiny white mosaic tiles with a checkerboard shell pink decorative edge. Antique matching ice cream parlor chair and tables made from curvaceous wire filled the room. Lazy turning fans hung down from the high pressed metal ceiling. What stole my heart was the soda fountain.
The rows of polished chrome containers that held all the different toppings, the syrup pumps, the two gooseneck carbonated water dispensers and the long rubber hose with the star shape tipped nozzle at the end that propelled endless cream domes. The counter was covered with shiny black marble, a large pedestal glass container of bright red maraschino cherries in syrup and 12 tall ice cream parlor chairs. We always sat at the counter facing a large matching display bar with a large mirror in the center. It was flanked by many shaped glasses, from elongated banana split dishes to sundae glasses in 3 different sizes waiting on the thick glass shelves.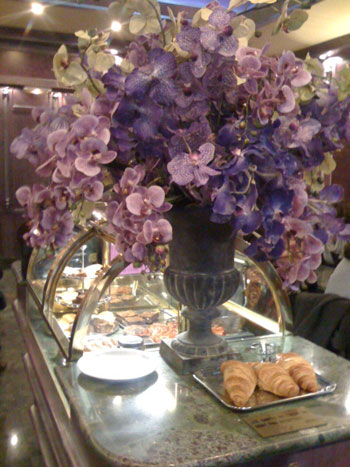 The ice cream was very good, not great but the place was just beautiful. In my ice cream parlor obsessed mind I've taken the very Americana atmosphere of the Sugar Bowl and blended it with the very sophisticated salon of Berthillon in Paris, my other ice cream destination that I treasure.
Berthillon is like nowhere else; the ice cream and sorbets are made of the best ingredients - the ripest seasonal fruits, berries and nuts. All churned in house with a depth of flavor that leaves me silent and spellbound. They serve their masterpieces in an elegant grand salon decorated in a soothing regal palette of lavender.
A large chandelier in the center of the ceiling floats above an oversized arrangement of pale lavender orchids stems. The elegant Salon is so perfectly Parisian; it's merely 20 feet by 20 feet but 50 or more people can be seated together and somehow it works very smoothly.
The menu has some incredible ice cream sundae creations with chestnut puree, poached pears or brownies. You choose up to 5 scoops or boules of either ice cream or sorbet. It is one very challenging decision. The sauce choice is either hot Valrhona chocolate sauce or raspberry coulis. Berthillion towering confections are stabilized with a large almond tuile curled around the sundae and wedged against the frosted chrome dish.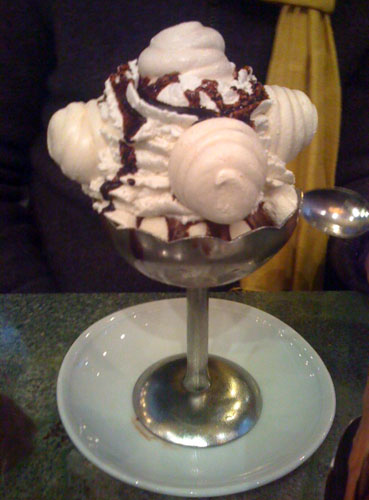 The crowning jewel is the huge rosette of the best Normandy cream on the top dispensed from a purring vintage red machine invented just to make rosettes of cream. And last, the signature topper, a dark blue black colored Morello cherry grown in the Franche-Comte region, southeast of Paris near the Swiss border that taste like no other sour cherry you've ever eaten. The cherries are harvested in Spring and delivered to the Bertillon's kitchen were they are preserved in sugar syrup to be used all year long.
With all this information I have carved my own ice cream parlor in my mind or perhaps in my future. My parlor would have a Vintage Stanley Knight soda fountain. It must have two heated chrome dispensers, one for my bittersweet Valhrona chocolate sauce and the other for a caramel sauce made with local churned butter, heavy Jersey cream and the best Tahitian vanilla beans. Other chrome dispensers with small spoons attached under the lid would hold fresh raspberry, strawberry, wild Maine blueberry and rhubarb coulis.
More containers would hold old fashion pourable marshmallow sauce, a must for my banana split and a chunky peanut butter sauce that I'd pour lavishly over both my chunky peanut ice cream and my dark Bittersweet chocolate ice cream. I would have a long rubber tube that dispensed whipped Maine Jersey cream into pretty rosettes to top my frozen creations. Yes, I would top each cream rosette with toasted chopped walnuts and house preserved jumbo Bing cherry with the long stem still attached.
All the ice cream I serve would be made by me, lined up in the dipping wells under the flip top covers, resting at the proper scooping temperature. I will make everything with the best ingredients that I can find, "no skimping"!
It isn't only about the taste of the food it is also about the tactile experience of the environment. My glass dishes would be antique with charming mold imperfections and my long handled ice cream spoons would be washed silver plate all shiny and bright. The walls would be painted a pale butter yellow with close-up black and white vintage look photos of each confection on the menu. The floor would be covered with alternating black and white tiles. Large palm trees would divide the room into small private eating areas and dampen the sound in the room.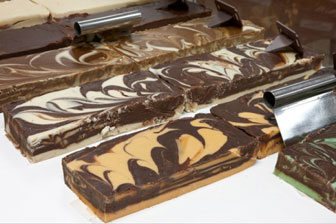 Of course, I would have old wire ice cream parlor tables and chairs. Classic music would alternate with Jazz depending on the time of day and the mood of my customers. It would be a completely intoxicating experience where customers could linger for hours talking and ordering more than one ice cream creation.
There would be classic sandwiches on Pullman bread, and an old fashion classic Hamburger served in small oval baskets; topped with ketchup, mustard, homemade relish, and a thick slice of red onion or not. The freestanding glass candy case would be filled with penny candy on the bottom shelf and the top shelf would have handmade fudge cut to order, real chocolate Turtles, and chocolate dusted truffles. On Saturday and Sundays a cotton candy machine would whirl out bright pink paper sticks of spun sugar just because kids really don't know how good fresh cotton candy can taste.
I would feature an ice cream special every week, something that I would make only that week and it would disappear forever except from the memory of the person that ordered it. I would tirelessly work to create an old fashion ice cream parlor that customers would think about when they weren't there.
My only wish is they remember my dream sweetly...
Brenda Athanus runs a small gourmet food shop in Belgrade Lakes, Maine with her sister Tanya called the Green Spot.
The Green Spot
This email address is being protected from spambots. You need JavaScript enabled to view it.
207.441.9327